Disclaimer – Nothing on this website is intended to be a substitute for professional medical advice, diagnosis, or treatment…
Read More Here
.
If you're like most Americans, you've likely put in a few extra hours at the office from time to time. Whether that means coming in early, staying late, or working through the weekend, Americans are known for their lack of work-life balance.
With increasing demands to get more done, many people feel pressure to read incoming emails as soon as possible, even before they start the work day. To figure out just how long the average American waits to check their email in the morning, we surveyed 1,076 full-time employed Americans about when they check their inboxes. Here are some of the key findings:
How Soon After Waking Up Do You Check Your Email?
78% of people check their email before they go in to work.
11% of Americans check their email immediately upon waking up.
30% of millennials check their email within 15 minutes after they wake up.
11% of Americans Check Their Email as Soon as They Wake Up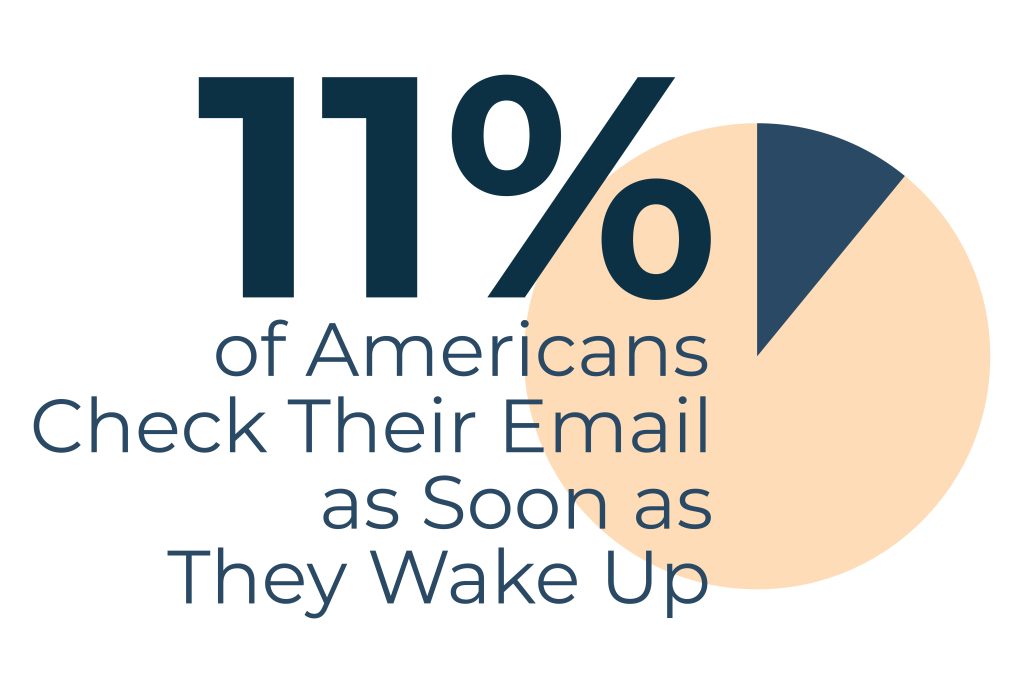 Our findings show that as many as 78 percent of people are checking their work emails before even going in to work, with 11 percent looking at emails immediately after waking up. The most amount of people in this group (30 percent) checked their email within 15 minutes of waking up, followed by 19 percent of people checking their email within 30 minutes of waking up. Just 22 percent of people waited until they began working to view their work-related emails.
30% of Millennials Check Their Work Email Within 15 Minutes of Waking Up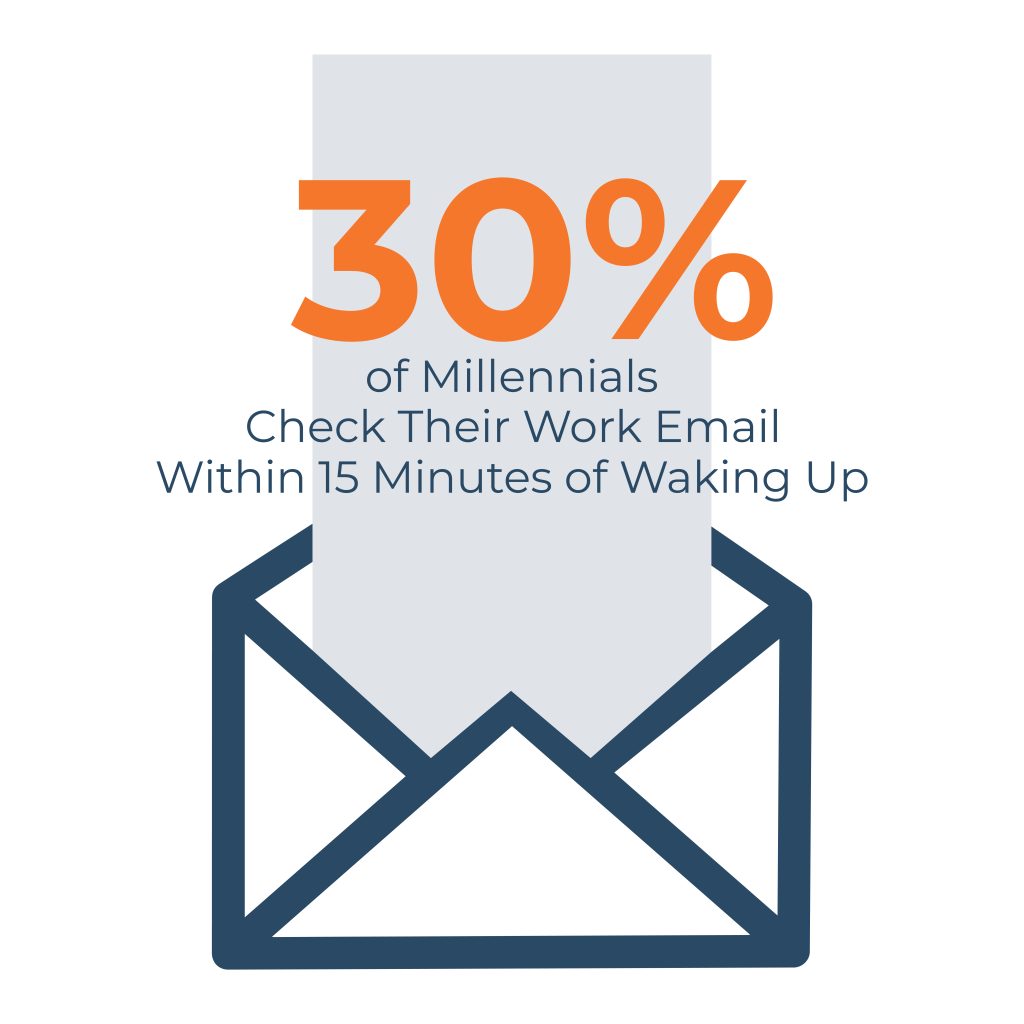 In our survey, 30 percent of millennials reported checking their email within 15 minutes of waking up. Lindsay Miner, MA, LPC of Ignite Healing Denver explains why this may be the case. "Our millennial generation is connected to technology in a way where many people are just so used to being in connection with the moment-to-moment happenings in their phones that it's nearly impossible to know what the alternative could be like."
Furthermore, additional research has found that millennials actually take less time off1 compared to older generations, even though taking time off could help combat burnout.
The Impacts of Checking Email First Thing
It may feel like squeezing in a few extra emails every morning is a great way to catch up, but avoiding these notifications in the morning could allow you to wake up more relaxed2 and in a better mindset to begin the day. When you're setting your workday on an anxious note, you're more likely to feel overwhelmed, unhappy, and ultimately, underperform.
However, while checking your email first thing in the morning can be stressful for some, it can have the opposite effect for others, as Miner explains. "For a lot of people, the unknown is a primary source of stress. People who find it calming to have order, clear plans, and to know what's going to happen next may be the kinds of folks who thrive on being able to know what their day will look like the moment they wake up. For these people, checking email immediately can actually have a calming effect."
49% of People Report a Good Work-Life Balance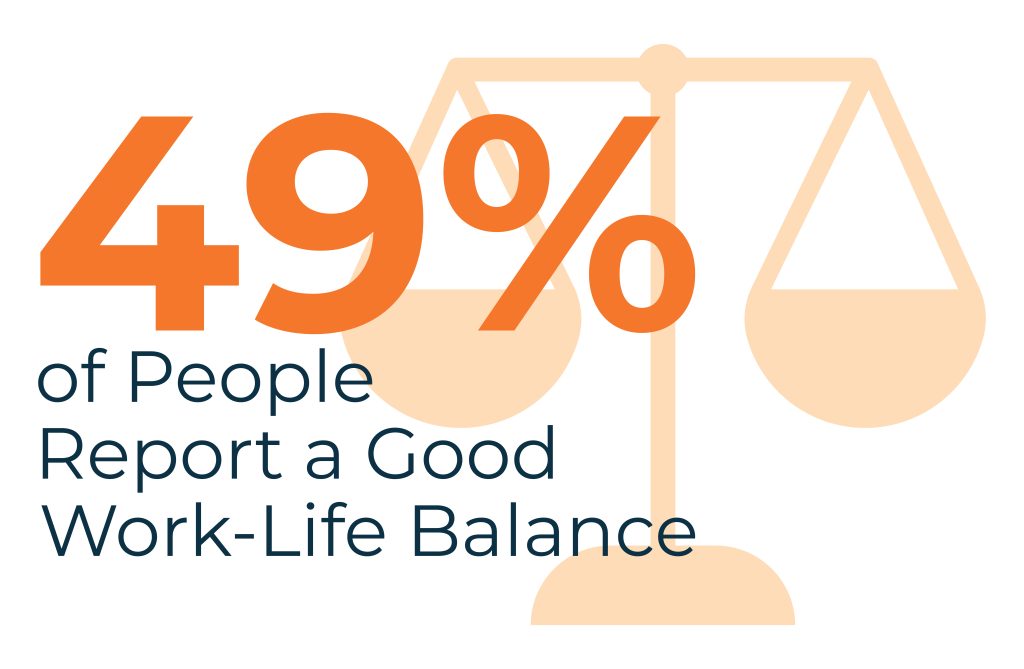 In our survey, we learned that just under half of Americans felt that they had a good work-life balance, while 44 percent reported a moderate one. Just 7 percent reported a bad work-life balance.
According to the United States Census Bureau3, the number of people working from home tripled between 2019 and 2021. Though these numbers were primarily due to the COVID-19 pandemic, many workers have decided to remain remote4.
However, remote work doesn't guarantee a good work-life balance. Our survey found that the majority of those who reported a bad work-life balance either worked remotely or in an office. However, those in hybrid jobs, in which work time is split between home and the office, reported the least bad work-life balance.
How to Create a Better Work-Life Balance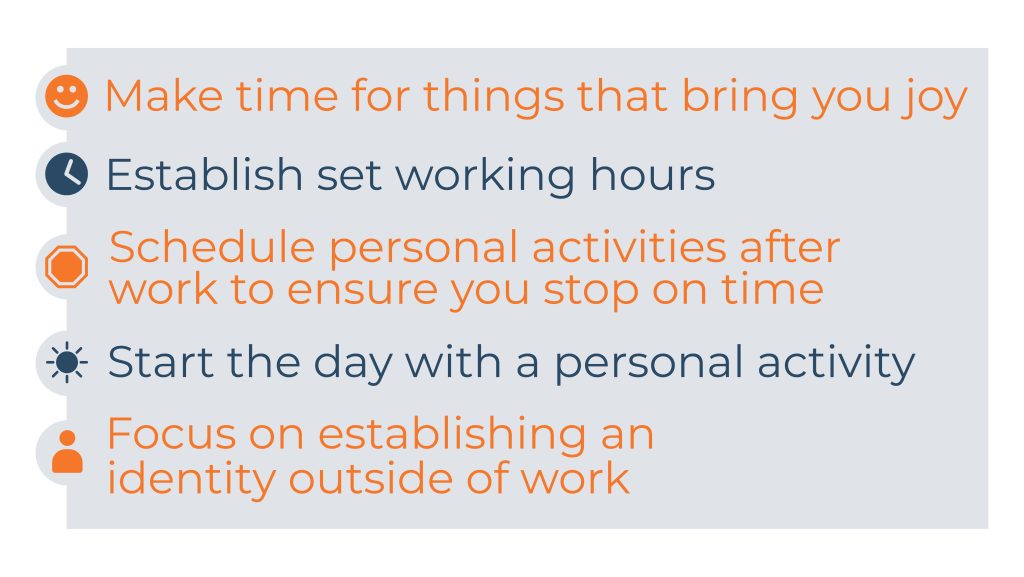 Creating a better work-life balance is essential because without it, Miner says people could experience symptoms like anxiety, racing thoughts, hypervigilance about work, increased anger, loss of hobbies and interests, insomnia, poor relationships with friends and family, worse work performance, and even clinical depression.
According to Miner, the following tips can help you achieve a better balance between your work and home life.
Make time for things that bring you joy
Establish set working hours
Schedule personal activities after work to ensure you stop on time
Start the day with a personal activity
Focus on establishing an identity outside of work
Jill Zwarensteyn
Editor
About Author
Jill Zwarensteyn is the editor for Sleep Advisor and a certified sleep science coach. She is enthusiastic about providing helpful and engaging information on all things sleep and wellness.
Methodology
We surveyed 1,076 full-time employed individuals living across the country. We asked participants to rate their work-life balance and questions about their office setting, when and how often they check their work email, and which generation they identify with. We polled individuals 18 and up of all salary ranges.
Fair Use Statement
If you would like to reference any of the data from this survey, please include a link to this article and credit SleepAdvisor.org
Overview of data used for this survey can be found here.
References:
"PAID TIME OFF TRENDS IN THE U.S.". U.S. Travel Association. 2019.
"7 reasons to break your smartphone addiction". Piedmont Health. Webpage accessed March 16, 2023.
"The Number of People Primarily Working From Home Tripled Between 2019 and 2021". United States Census Bureau. 2022.
Parker, Kim., Menasce Horowitz, Juliana., Minkin, Rachel. "COVID-19 Pandemic Continues To Reshape Work in America". Pew Research Center. 2022.