Transparency Disclosure – We may receive a referral fee for products purchased through the links on our site...

Read More

.
Disclaimer - Nothing on this website is intended to be a substitute for professional medical advice, diagnosis, or treatment...

Read More Here

.
A CPAP machine (continuous positive airway pressure) is a common solution for those who struggle with sleep apnea, which is breathing that suddenly or periodically stops during sleep. A CPAP machine is worn during the night to help individuals breathe more comfortably while resting.
Typical side effects of sleep apnea include fatigue, heart problems, and high blood pressure. If you're someone who wears one of these devices to alleviate these issues or combat snoring, a common challenge is keeping the strap snug your face, and a CPAP chin strap can help solve this issue. We detail some of the best products so you can get a quality night's rest.
4 Top Rated CPAP Chin Straps Review
Respironics –
Best Adjustable
One size fits all
Adjustable velcro
This chin strap is perfect for those who need an adjustable product or possibly struggle with sizing with other standard straps. While others can stretch out after just a few weeks of wear, the Respironics strap uses strong material to last. It's not made of elastic, closes tight with firm velcro, and the design keeps it firmly in place so you can breathe easily throughout the night.
Some users have even used the device for chronic headaches due to poor night breathing, and this is comfortable enough to wear night after night to alleviate health issues and promote quality rest.
Aveela –
Best CPAP Compatible
Size: Medium and Large
Adjustable velcro
The Aveela was designed with compatibility in mind so that it can securely fit with numerous CPAP devices, nose vents, and masks, letting you sleep more comfortably with ease. The adjustable strap can accommodate varying head sizes, allowing for a comfortable fit for just about anybody.
If you don't struggle with sleep apnea, this product works great for those who suffer from disruptive snoring as well, letting you and your partner get quality zzz's. It's also a remarkably comfortable product compared to many other itchier models, allowing you to snooze peacefully night after night.
One size fits all
Adjustable velcro
This extra large and wide CPAP strap can fit heads of both small and larger sizes securely, alleviating air leakage and snoring. The PRIMADA is specifically designed with an under-the-chin mechanism to mitigate discomfort and provide a quality night's sleep with maximum airflow through the nasal cavities.
Compared to other models, the PRIMADA is remarkably soft and wide, allowing for more comfort without tightening the strap to a near-suffocating degree. The additional straps allow you to customize the device to your head with ease, cradling your chin without using excessive force. It also won't overly pull back on your chin, which can possibly undo expensive orthodontic work.
Best in Rest –
Best Comfort
One size fits all
Adjustable chin strap
The Best in Rest strap cradles your jaw comfortably, helping to keep your mouth closed during PAP treatment and breathe easily, minimizing air leakage. The lightweight design contours to your head's shape, evenly distributing pressure and creating a more pleasant sleep experience, letting you wake up more well-rested. It also can alleviate snoring so that you and your partner can sleep soundly.
The adjustable fit allows users to customize the product to suit their size, and the strap's high quality, breathable fabric shouldn't irritate individuals' skin. Additionally, it's machine washable, letting you maintain the product's cleanliness with ease.
Chin Strap for CPAP Buyer's Guide
Managing sleep apnea and researching which devices to use to mitigate its issues can be a full-time job. We explain the various types to help with your decision.
How Do Chin Straps Help With Sleep Apnea and Snoring
Sufferers of sleep apnea struggle with breathing while asleep. A CPAP machine works by funneling air into your nose, throat, or both so that your airways don't close and obstruct your breathing.
Air leakage can be a common issue with a CPAP machine, which nearly defeats the purpose of wearing the device. A head strap can help eliminate this problem by comfortably securing the mask to the wearer's face, minimizing air leaks.
A chin strap can also help with snoring by securing your mouth closed during the night. It works by minimizing airflow through your throat, which often creates the loud rumbling noises that snoring makes.

Chin Strap for Sleeping Common Types
There are various options to choose from when selecting a chin strap for bedtime. Below we'll go over the pros and cons of a few quality choices.
Premium
Using a CPAP machine can help you breathe during sleep, but if your device isn't properly secured to your face, the pressurized air that keeps your airways clear can leak out, defeating the purpose of the machine. The Premium chinstrap can help mitigate this issue by comfortably keeping your mouth closed during the night.
Each head is uniquely shaped, so this strap is adjustable to accommodate various sizes and gentle support. The Premium chinstrap also features a vertical design that can offer more secure tension than horizontal straps and should support your chin closed in a way that's comfortable when secured with care.
Ruby
The Ruby chinstrap helps keep your mouth closed while sleeping to minimize snoring and sleep apnea when used with a CPAP device. Keeping the machine securely snug to your face is essential for proper use, and this Ruby chinstrap can help support it to fit securely.
The Ruby is unique in shape and design, with two straps going around the head instead of one It features one strap under your ears connecting at the back of the head and one over the ears connecting at the top of the head. The special design offers ultimate support with a secure, gentle fit for lasting comfort night after night.
Halo
Flexible and functional, the Halo's innovative design is unique in that it offers more stability under the chin, keeping it from slipping or becoming loose in the night. The lightweight material secures around the head's crest, evenly distributing pressure to minimize headaches and maximize comfort.
The product boasts a slim design, lacks tricky buckles, and was created with long-wearing comfort in mind, providing a gentle fit compared to other cumbersome straps. A small hole is designed into the chin cup, allowing the chin to sit easily without slipping. The breathable material is made of a soft, flexible texture, yet retains its durability to last.
When You Should Not Use a Chinstrap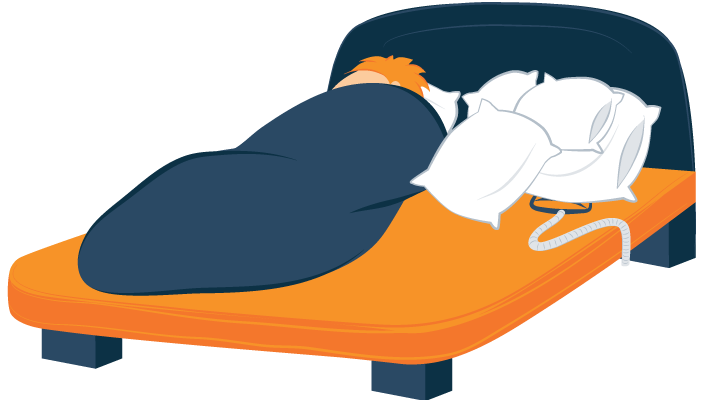 Wearing a chinstrap can be an excellent tool to minimize snoring or fasten a CPAP machine securely to your face. While these devices can be incredibly useful in some circumstances, there are a few cases where they should not be used for health reasons.
A deviated septum or blocked nasal passage can inhibit breathing throughout the night, harming sleep quality and potentially leading to serious health issues, including anxiety or depression. However, if you have healthy nasal airways and need assistance keeping your mouth closed while using a CPAP, a chinstrap can be a fantastic accessory to improve airflow.
If you're unsure whether a chinstrap is for you, it's always wise to consult a medical professional to talk about your options and health needs before making any decisions.
Conclusion
If you're struggling with breathing due to sleep apnea, or disturb yourself and your partner due to snoring, you're not alone. Many individuals have similar issues, and it can be frustrating trying to deal with a problem that only arises when you're asleep and unconscious.
Fortunately, there are solutions to alleviate these issues, and a CPAP strap can be a worthwhile addition to your nighttime routine. When minimizing air leakage with a CPAP device, a chin strap can help funnel air into your body, or mitigate snoring, potentially letting you rest soundly and quietly to get the rest you need.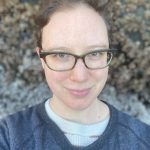 As Sleep Advisor's Performance Editor, Melanie writes and edits content throughout the site to ensure it's accurate, engaging, and up-to-date.
Sleep has always been a top priority for her—even at childhood sleepovers, she was never able or willing to pull an all-nighter. After spending some time researching studies and writing articles for a sleep hygiene app, she became hooked on sleep science writ large.
These days, she's a proud member of the Sleep Advisor editorial team and finds continual inspiration in the best sleeper she knows: her enormous cat, Cole.