Transparency Disclosure – We may receive a referral fee for products purchased through the links on our site...

Read More

.
Avocado has been selling 100 percent organic, natural, and non-toxic mattresses since 2015, but did you know they sells pillows too? The company manufactures a small range of pillows, and the Avocado Green is one of their vegan offerings (some pillows contain wool, silk, and mohair). This pillow has been designed for sleepers of all styles as it has an adjustable natural latex and kapok fill, allowing you to increase or decrease the loft as you see fit, according to your sleeping style.
As this is an eco-friendly pillow, it's also a great option for those with allergies, which could help lead to more restful nights. With a number of eco-friendly and organic certifications, the Avocado Green pillow may just be one of the healthiest, most sustainable pillows out there, but is it good to sleep on? Let's find out.
Who Is the Avocado Green Pillow Best for?
Pros: Who Might Like the Avocado Green Pillow:
Eco-conscious shoppers – This pillow has a number of eco-friendly materials and certifications, as well as being certified vegan. Plus, Avocado is a Climate Neutral-certified and carbon-negative business.


---

Those seeking an adjustable pillow – The Avocado Green features an inner liner that contains the shredded latex/kapok fill and is accessible by zipper. You can add or remove the fill to adjust the loft of the pillow, allowing you to customize your comfort.


---

Back and side sleepers – While the pillow is adjustable, we think it works best for back and side sleepers, who will make the most of the provided fill.
Cons: Who Might Not Like the Avocado Green Pillow:
Budget shoppers – At 129 dollars for a Queen pillow, the Avocado Green isn't a budget pillow. However, we think the price reflects the quality and workmanship.


---

Those wanting a fully machine-washable pillow – While the pillow's outer cover is machine washable, the inner cover can only be spot cleaned, and the fill cannot be washed at all. If you prefer a pillow that you can throw in the wash, this may not be the one for you.
Sleep Advisor's Testing Methodology
Pillows can make or break your sleeping experience. That's why we offer unbiased reviews on these products, explaining what they're made of, how comfortable, supportive, and durable they are, and who they might be suitable for.
What is the Avocado Green Pillow Made of?
Cover
The Avocado Green pillow's removable and machine washable outer cover is made from 100 percent GOTS-certified organic cotton that's soft, breathable, and designed to wick away moisture. Inside is the inner liner (also made from organic cotton), which contains the stuffing, and a discreet zipper allows you to open it and adjust the level of fill.
Core
Inside the pillow's organic cotton inner lining is the fill, which contains a blend of 70 percent natural latex rubber shreds and 30 percent natural kapok fibers. The latex is GOLS certified organic, and the kapok fibers are GOTS certifid organic.
Kapok a cotton-like fiber that's obtained from the kapok tree and is naturally very fluffy. As mentioned, the pillow is adjustable, with Avocado providing an extra bag of latex and kapok fill if needed.
Avocado Green Pillow Firmness & Feel
Firmness
Overall, we found the Avocado Green pillow to have a medium firmness that was particularly great for side and back sleepers. It's super supportive, thanks to the shredded latex fill but also moldable, allowing you to shape the pillow around your neck and neck.
Feel
The Avocado Green's cover feels incredibly soft. While the pillow doesn't feel cool to the touch, we did find it to be temperature neutral – natural latex is known for its temperature regulation, and the shredded nature of the fill allows for airflow.
Loft
Loft is a way of describing the height of pillows. Overall, we'd say the Avocado Green has high loft, as it arrives full to the brim with stuffing, although the pillow can be unzipped to add/remove fill to increase/decrease loft. You even get a bag of extra stuffing, and you can purchase extra bags.
However, even when it's full, we wouldn't say the pillow feels too high as it compresses easily; it does a great job of cradling your head while comfortably molding itself around it. That being said, stomach sleepers will definitely want to remove a lot of the stuffing.
Weight (Density of the Pillow)
When full, a standard Avocado Green pillow weighs 3.4 pounds, a Queen weighs 3.9 pounds, and a King weighs 5.2 pounds. However, as we've mentioned above, the weight and density of the pillow is totally customizable thanks to the removable stuffing.
Sleeping on the Avocado Green Pillow
We found this adjustable pillow incredibly comfortable. The plush and responsive latex and kapok fill is easily manipulated, and you can add or remove fill to increase or decrease loft, allowing you to create a level of support that works for you. However, stomach sleepers will likely find they have to remove a large amount of filling to flatten the pillow to a comfortable level, so they may prefer to save money by purchasing a lower loft pillow.
| Side Sleepers | Back Sleepers | Stomach Sleepers |
| --- | --- | --- |
| ★★★ | ★★★ | ★☆☆ |
Side Sleepers
When lying on our side, we could feel the latex and kapok fill conforming to the shape of our head, gently cradling the face. If you're someone who likes a little extra loft when side sleeping, you might want to unzip and manipulate the fill so it's pushed down to the side of the pillow your head is resting on, or you can even add more fill since an extra pack is provided.
For More Information: Best Pillows for Side Sleepers
Back Sleepers
We felt incredibly comfortable lying on our back on this pillow. Avocado intentionally overstuffs its pillows, allowing you to remove fill to decrease loft as needed. While we personally found the full pillow beneficial for back sleeping (it offers support if you want to lean your head off to one side) some back sleepers may prefer to remove some of the filling.
For More Information: Best Pillows for Back Sleepers
Stomach Sleepers
The Avocado Green pillow is provided overstuffed, which felt too lofty for stomach sleeping as our head was elevated to an uncomfortable position. The pillow is adjustable, but we found we had to remove a huge amount of filling to make it flat enough for front sleeping. Removing so much fill seems like a waste of money, especially considering the pillow isn't cheap, so while it may be tolerable for some, strict stomach sleepers might want to look at softer, lower loft options.
For More Information: Best Pillows for Stomach Sleepers
Avocado Green Pillow Sizing Options & Pricing
| Size | Dimensions | Price w/o Discount |
| --- | --- | --- |
| Standard | 19" x 25" | $109 |
| Queen | 19" x 29" | $129 |
| King | 19" x 35" | $139 |
Sleep Advisor's Performance Ratings for the Avocado Green Pillow
We'd say the Avocado Green pillow is temperature neutral. It doesn't feel cool to the touch, but it does have a breathable cotton cover, is filled with temperature-regulating latex, and contains shredded fill that allows for airflow. However, those who sleep very hot may want something that's cool to the touch instead. Read more about cooling pillows here.
This pillow comes comes with a significant amount of fill, which is great news for back and side sleepers because they tend to need more support. We found it offered fantastic support when sleeping in these positions, and as it's adjustable, some filling can be removed to make it more comfortable for the individual sleeper.
We've found that Avocado products are of great quality, which makes it easier to justify the higher price tag. The fill contains 70 percent natural latex rubber shreds, and latex is known for its durability.
The fact this pillow has a machine washable outer cover (made from high quality cotton) should also help it go the distance. Plus, you can purchase extra bags of fill, so if for any reason it needs replacing, you don't have to replace the whole pillow.
The Avocado Green scored high for comfort. First off, you've got the soft 100 percent organic cotton outer cover, followed by the latex and kapok fill. This pillow feels plush, responsive and supportive, offering a gentle cradle for the head. Then, there's the fact this product is adjustable; you can really play around with the loft by adding or removing fill to help create a pillow that works for you.
Despite being a 100 percent natural and organic product, which tend not to cause too much odor, we did find there was a bit of a rubbery smell after unpacking the pillow. The pillow is non-toxic so it's harmless, but you might be bothered by the smell for the first few nights.
Eco-friendly pillows like this tend to be great for allergies as they contain more natural and organic materials. The Avocado Green's organic fill is hypoallergenic, resisting allergy-triggering components like dust mites.
Plus, the pillow is certified non-toxic, via the MADE SAFE® program, as well as being certified organic by GOTS and GOLS. It also has a GREENGUARD Gold indoor air quality certification, and the latex is eco-INSTITUT® certified to be free of synthetic materials and harmful emissions.
The Avocado Green has a removable outer cover that can be machine washed on cold and hung to dry. The inner liner that contains the fill can be spot cleaned.
This pillow comes with a 100-night trial and a one-year warranty. If you don't love the pillow, you can return it within 100 nights of delivery for a full refund.
Avocado Green Pillow Frequently Asked Questions
What are Avocado pillows made of?
Avocado sells multiple pillows, all of which contain natural and organic materials. The Avocado Green has a 100 percent organic cotton cover, with an organic latex and kapok fill.
Can I wash my Avocado Green pillow?
The Avocado Green comes with a machine washable outer cover that be washed on a cool cycle and air dried, and the inner lining can be spot cleaned. However, you cannot wash the fill.
What is the healthiest pillow material?
If you're looking for a pillow that's good for your health and the planet, we recommend organic, eco-friendly ones. Along with fewer synthetic components, organic pillows are usually good at minizming allergens like dirt and dust mites.
What is the difference between the Casper and Avocado pillow?
The main difference is that Casper pillows contain synthetic materials, while Avocado pillows are made with organic, and natural materials. On the whole, Casper pillows tend to come at a lower price point.
How Does the Avocado Green Pillow Compare to Other Pillows?
Avocado Green Pillow vs Nest Easy Breather Pillow
Avocado Green Pillow vs Saatva Latex Pillow
Our Final Thoughts on the Avocado Green Pillow
The Avocado Green isn't the cheapest pillow out there, but you get a lot of bang for your buck, with its high level of comfort, adjustability, 100 percent organic and natural materials, and durability. Plus, you even get a discount if you purchase a pair.
Avocado sells high-quality products that should stand the test of time, and it's a very transparent company, so if the environment and sustainability are high on your agenda, the Avocado Green should definitely be on your radar. With a 100-night money back trial, it's worth seeing if this organic offering is the pillow of your eco-friendly dreams. Our overall score for this product is 4.5 out of 5.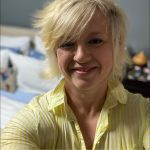 Sosha Lewis is a staff writer for Sleep Advisor.  Lewis is happy that she is able to combine her love of sleep with her love of writing. Lewis also has had articles featured in The Washington Post, Huffington Post, MUTHA Magazine, Charlotte Magazine, and The Charlotte Observer. Her weekly column, Soshally Awkward, is featured on the nationally-syndicated radio show, Bob & Sheri.
She lives in Charlotte, NC with her husband, daughter, and lovable trash-panda of a dog, Olive.