What makes a bedtime story great?
For some people, it's the story itself, and for others, it's the person reading it to them or how creative they get with the voices.
The founders of SACHI Home believed that the story was important, but they also have fond memories of the soft bedding they experienced in India as children. Fast forward to adulthood, and the duo behind Sachi decided to bring the feel of the soft sheets they remembered from their childhood to the US.
In this Sachi bed sheets review, we'll share our experience with this bedding and let you know if they're a good value for the money.
Sachi Sheets – Key Features
100% cotton
500 thread-count
Sateen finish
Four colors available
Manufactured responsibly
Made in India
Pros & Cons
Pros
Premium long thread cotton
Socially responsible and green manufacturing
Continuous elastic hem
Fits deeper mattresses
Expert craftsmanship
Colors that go with everything
Cons
Only available in queen and king sizes
The color palette is muted and there only four hues available (white, dune, gray, navy)
Material / Style
The idea behind Sachi's sheets is to make a color palette that you can mix and match, and still have everything appear put-together. Though they say that, they don't sell the pieces separately, so if you want to try this look, you'll have to shell out double the dough to get the effect.
The material is 100% long thread cotton in a sateen weave. The company is careful to always reference the cotton as long thread to signal that the fabric is softer and more durable than "regular" cotton. You see, shorter threads tend to unweave themselves or break off of the weave. The result is a scratchier surface and an increased risk of tearing.
By using long thread cotton, Sachi is positioning themselves as a premium bedding company selling their wares at a reasonable price.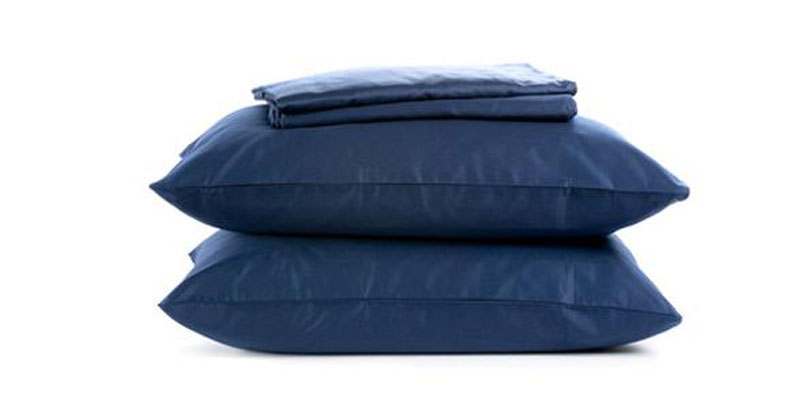 Build Quality
Our favorite feature of this brand is the continuous elastic band that goes all the way around the fitted sheet. One of the worst parts of making a bed is having to put the fitted sheet on the bed and having it go in all kinds of directions.
This fabric is a sateen weave, and if you don't know what that is, we'll break it down for you. When you buy a set of bed linens, there are two types of weaves: sateen and percale. The sateen weave means that there are three threads woven on top for each one that's underneath. The effect it creates is a luxuriously soft piece of bed linen that also has a subtle sheen.
One of the biggest benefits of this type of fabric is that it resists wrinkles, and if you've ever ironed sheets, then you know this a huge plus!
Overall, we think Sachi hit out of the park regarding build quality. This is definitely a premium-looking line of bedding!
Durability
The long thread cotton used in this bedding indicates that this sheet set should last several years, if not a lifetime. The factory they use in India is staffed by expert craftsmen who make sure that every stitch is perfectly placed and reinforced. We contacted the company just to make sure!
Sateen is a slightly less durable weave. As we mentioned in the previous section, it's made by placing three threads on top and one on the bottom. The lack of balance can result in uneven wear, pulling, pilling, and tearing. However, considering the tightly woven 500-thread count, we don't foresee any problems with durability. We expect to have these sheets for several years.
Weight
Sateen is a slightly heavier fabric than percale. Again, because of the imbalance of the weave, the yarns are more tightly woven to help hold everything together. And while this type of pattern means the sheets are ultra soft, it does increase the weight a bit.
We believe that sateen is ideal for people who like to bundle up and stay cozy throughout the night, or for those who live in cooler climates and don't mind a warmer sheet.
Alternatively, you can have a summer sheet set and a winter one. Use one type in the warmer months and then switch to Sachi in the colder seasons. We do this with our clothes, why not with our bedding?
Feel & Comfort
If you love the feel of hotel bedding, you will be enamored with Sachi. These are some of the softest and most luxurious bed linens we've reviewed. The company claims they're suitable for year-round use, and for the average person they likely are. However, if you're one of those people that sleep hot and habitually wakes up in a pool of sweat, you might prefer a lighter material with a percale weave.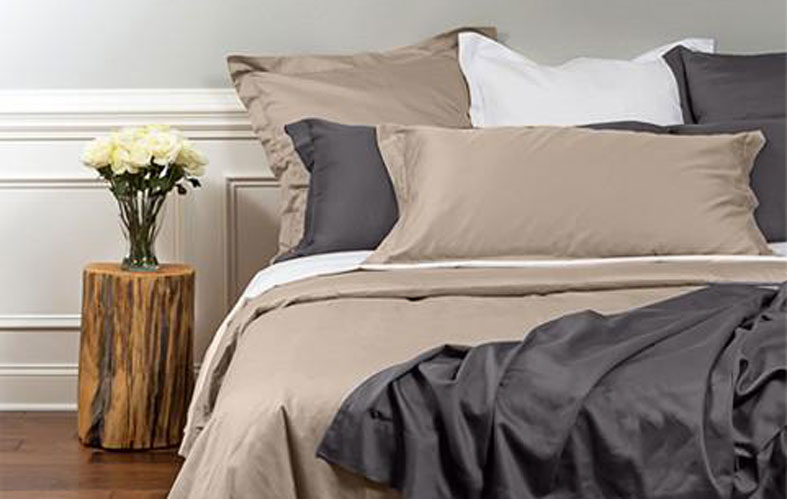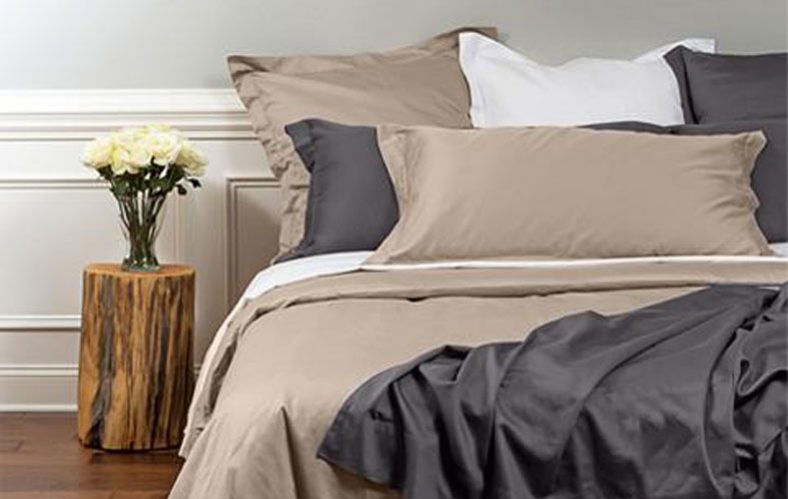 Price / Value
Like other sheet manufacturers, Sachi has been able to offer a more reasonable price by selling direct and cutting out the middleman. For the premium quality of this bedding, the price is quite reasonable.
Who Should Buy Sachi Sheets?
Many of us appreciate products that have a unique story that inspired their creation. It's undeniable that the Sachi story is very sweet, and we like supporting brands that think differently.
Cotton lovers will rejoice in these pure cotton sheets. They're so soft, too!
Do you hate making your bed and struggling with the fitted sheet? Does it seem like it's mocking you every time you get it fitted on one corner only to have it pop off on the other side? We get it, and so does Sachi! If you also dread this chore, you'll love the continuous elastic panel that makes this task a breeze.
For those that like a muted and sophisticated color palette, you'll like Sachi's four colors. They range from bright white to dark navy, so you'll be able to find what you need for a light or dark-themed room.
Who Shouldn't Buy Sachi Sheets?
If you sleep hot, you might find the tightly woven threading combined with the sateen finish a little bit stifling. If you like some warmth coming from your sheets though, this could be a match made in heaven.
If you like bold colors in your bedroom, you might be disappointed by the limited color palette.
If you're looking for bedding that's made exclusively in the USA, you might be disappointed to find out that this product is made in India. While the factory is socially responsible and engages in green manufacturing practices, it is technically overseas.
Conclusion
SACHI, according to the founders, means "truth, honesty, and transparency." We think that this principle is refreshing and appreciate the dedication that the company has shown in bringing quality products to the US market at a reasonable price.
Coincidentally, Sachi is also an Indian baby name that means "descended from the sun god." And in Japan, this word means "child of joy." We can certainly attest to the joy that these sheets bring, regardless of whether or not the owners know of this variation in the definition. Should we tell them?
Related Articles
Jill Zwarensteyn
Editor
About Author
Jill Zwarensteyn is the Editor for Sleep Advisor and a Certified Sleep Science Coach. She is enthusiastic about providing helpful and engaging information on all things sleep and wellness.