Tips for Relieving Sciatic Pain during Pregnancy
Do some gentle stretching – Walnut Hill OBGYN[7] recommends a few specific, gentle stretches to help relieve tension around the sciatic nerve: pigeon pose, bound angle pose, a wide child's pose, and warrior two pose. These stretches should gently open up the hip and hip flexors, and relieve pressure on the lower back.
Use hot and cold therapy – For the first seven days of sciatic pain, experts[8] recommend that you use ice on the area to reduce inflammation. After that first week, you can start to use heat on the area to increase blood flow and relax the muscles.
Take warm showers – Warm showers or baths can help relax the muscles and increase blood flow to the area.
Get a massage, acupuncture, or chiropractic adjustment – All of these types of treatment can help relieve sciatic pain by working at the source of the issue. Just make sure you're seeing a licensed professional who does prenatal work.
See a physical therapist – If your sciatic pain is impacting your life or ability to sleep, you may want to make an appointment with a physical therapist. Physical therapists can guide you in specific exercises for your body and type of pain. Again, make sure you're seeing a licensed professional who does prenatal work.
Engage in low-impact exercise or prenatal yoga – Bedrest is actually one of the last things you should do when you have sciatic pain[8]. Therefore, maintaining movement throughout your pregnancy will be important. However, both sciatica and late pregnancy demand a lower-impact workout, so focus on activities like walking, cycling, pilates, or prenatal yoga, which can help strengthen the core and lengthen the back muscles.
Swim – Not only is swimming great exercise, but the buoyancy of the water can take some of the pressure off of the painful area, providing relief.
Do some pelvic tilts – Lie down on your back with your feet flat on the floor and knees bent. Lift your hips gently off of the floor, and then gently scoop your pelvis upward toward the ceiling. Hold this position for about five seconds, then return your hips to the floor. Repeat this process about 10 times. This should help strengthen your core and tighten your pelvic floor.
Use supportive devices – Pregnancy pillows and belly bands can provide comfort and reduce pressure on the lower back. Pregnancy pillows are typically used for sleep but can also be used while sitting. Belly bands are usually used while standing or moving.
Sleep on your side – Side sleeping is the most recommended[9] sleeping position for pregnant people anyway, but if you're also having sciatic pain, it should provide some good relief. Be sure you're lying down on the side of your body that isn't in pain. If you are experiencing sciatic pain, check out our list of best mattresses for sciatica pain.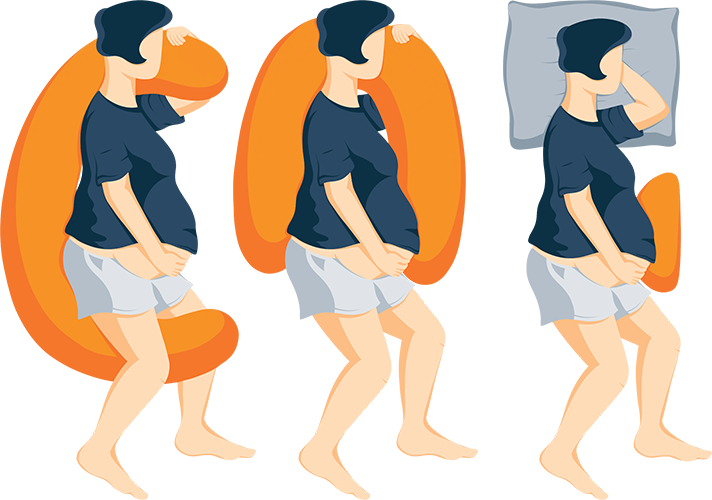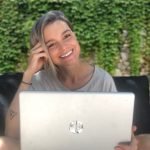 Natalie is a content writer for Sleep Advisor with a deep passion for all things health and a fascination with the mysterious activity that is sleep. Outside of writing about sleep, she is a bestselling author, improviser, and creative writing teacher based out of Austin.
When she's doing none of these things, you will most likely find her outdoors, at the gym, or... asleep.