Has your mattress reached the end of its life? Or have you simply upgraded to a different version and are wondering what to do with your older model?
You may be surprised to learn that you have several ways to dispose of a mattress that don't include hauling it to the landfill. While throwing away your bed is always an option, you could also donate it to charity, recycle it, or even sell it— all of which would lessen the mattress's environmental impact.
We've created this comprehensive guide to mattress disposal to help you understand all of your options for getting rid of an old mattress. Let's dive in.
How to Figure Out When It's Time for a New Mattress
Before you plan how to get rid of your mattress, you should consider whether you actually need to dispose of it.
Generally, people get rid of mattresses when they purchase a new one. Here are a few signs that it may be time to buy a new mattress: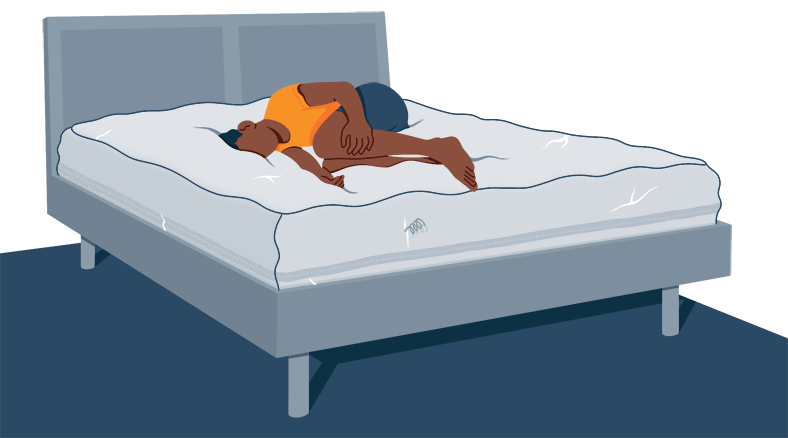 Sagging: If your mattress has begun sagging in the middle, it can no longer provide adequate support. Buying a new one can save you the back pain that may occur when sleeping on an unsupportive mattress.


---

Discoloration: Mattresses typically change color slightly over time due to the oxidation of the outer cover. However, if your mattress is excessively discolored, it may be time for a new one.


---

Allergies: Innerspring mattresses accumulate dust, dirt, skin cells, hair, and other allergens over time. If you've begun experiencing allergies in the mornings, it could be time to replace your mattress with a fresh, allergen-free one.


---
Find Out More: How Often Should You Replace Your Mattress? 
Things to Do Before You Dispose of Your Old Mattress
Before you throw your old mattress into the dumpster, you should also be aware of two key policies: your mattress's warranty policy and your state's mattress disposal policy. Both of these requirements can impact your next moves regarding if and how you dispose of your mattress.
Most mattresses come with a warranty that details the types of problems the manufacturer will repair for free. Warranties often allow consumers to receive a free repair or replacement for any manufacturing defects that impact their mattress's effectiveness.
Similarly, each state has its own policies and procedures that dictate how citizens can dispose of their mattresses. For example, some states do not allow you to put your mattress out with the rest of your garbage but instead require you to take your mattress to a specific disposal facility.
Here is some more information about these two essential policies.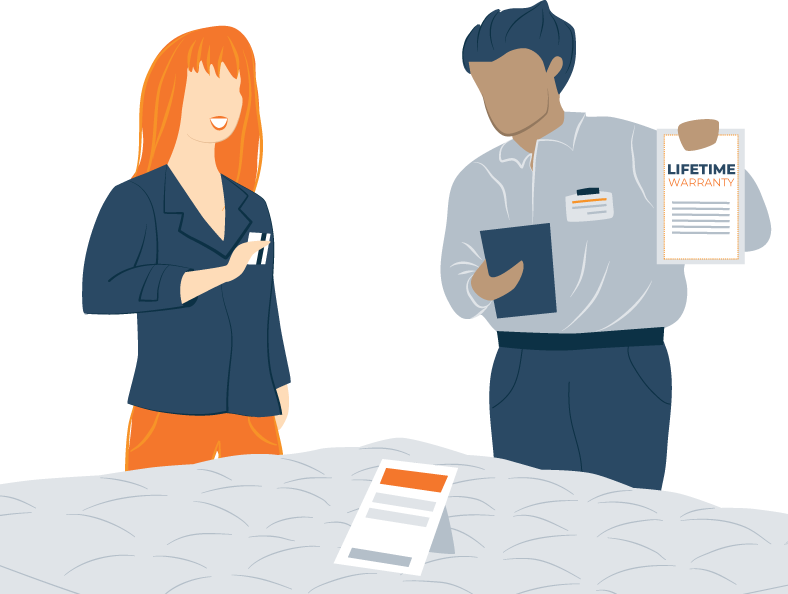 Warranty
If your mattress no longer performs as it used to, you should check its warranty before purchasing a new bed. If the problems your mattress is experiencing fall within your warranty— and your warranty is still valid—you could receive a new mattress for free.
Here's how to learn more about your mattress's warranty:
Check your mattress tag: Your mattress should still have its "Do Not Remove" tag that details information about the manufacturer, manufacturing date, and inner materials. If your mattress does not have this tag, your warranty will probably be void.


---

Google your mattress model + warranty: Next, complete a Google search for your exact mattress model with the keyword "warranty." You should find a site that explains your warranty's details.


---

Call the manufacturer: If you can't find enough information online, you can also call the manufacturer or the retailer from which you originally purchased the mattress for assistance.
State's Policies for Mattress Removal
Be sure to check your state's mattress removal policies before disposing of your mattress. For example, some states allow you to set your mattress out with the trash, others plan special "mattress disposal" days, and some require you to take large items like furniture and mattresses to waste management centers.
Additionally, states like California, Connecticut, and Rhode Island have mattress recycling programs to prevent mattresses from ending up in a landfill. These programs typically allow residents to call a recycling service to pick up the mattress for free or for a small fee.
What to Do With Used Mattress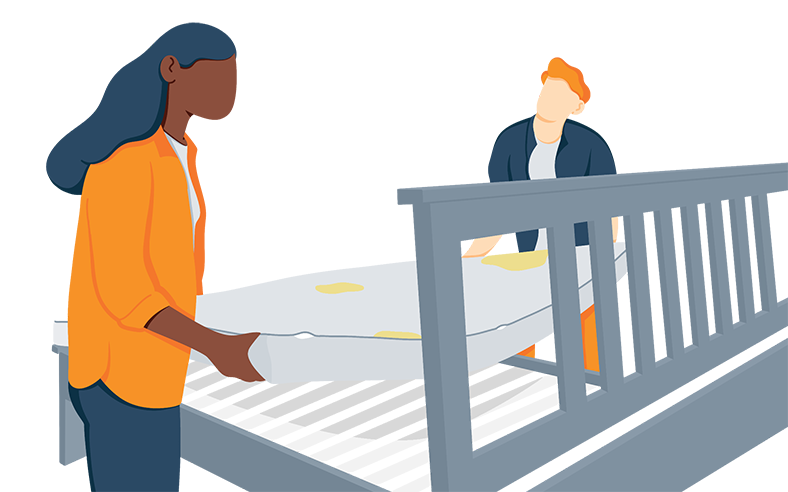 You have five primary options for getting rid of a used mattress:
Donate it
Recycle it
Reuse it
Sell it
Throw it away
The best disposal method for you depends on the mattress's condition and the amount of time and effort you want to put into the disposal process.
First, let's talk about condition. You should only attempt to give your mattress to another person or organization if it is in reasonably good shape. It should meet the following criteria:
Have no rips or tears
Not be sagging in the middle
Have no offensive odors
Be clean and relatively allergen-free
Never have had bed bugs
Consider why you are purchasing a new mattress. If it's because your old one is no longer supportive or comfortable enough for your needs, it may still suit another person. But if your old mattress is excessively worn out, dirty, or damaged, your best bet is to dispose of it.
Next, you should consider whether you have the means to take your mattress out of your house and transport it to another location. Ask yourself questions like:
Do I have friends and family available to help me lift and carry the mattress?
Do I have a vehicle big enough to hold the mattress, or am I willing to rent one?
Am I willing to put in the effort to transport the mattress myself?
If you answered "yes" to all of these questions, you have more disposal options available to you. If not, you may need to pay a company to do the work for you.
Need more info? Visit our guide on how to transport a mattress.
Donate Your Mattress
If your mattress is in good condition, donating it to a charity organization is an effective way to give it a second life, keep it out of the landfill for a few more years, and provide someone less fortunate with a comfortable place to sleep.
Better yet, many charities take all of the work out of disposing of your old mattress. Often, these organizations have the transportation and resources necessary to pick up the bed from your house and haul it to their donation facilities.
Donating your mattress to a charity can even give you tax benefits. Many charities provide the necessary paperwork to deduct the value of your donation from your income taxes. You could look at this tax deduction as contributing to the cost of your new mattress.
If you're considering donating your mattress to charity, you have two primary options: a national charity and a local one.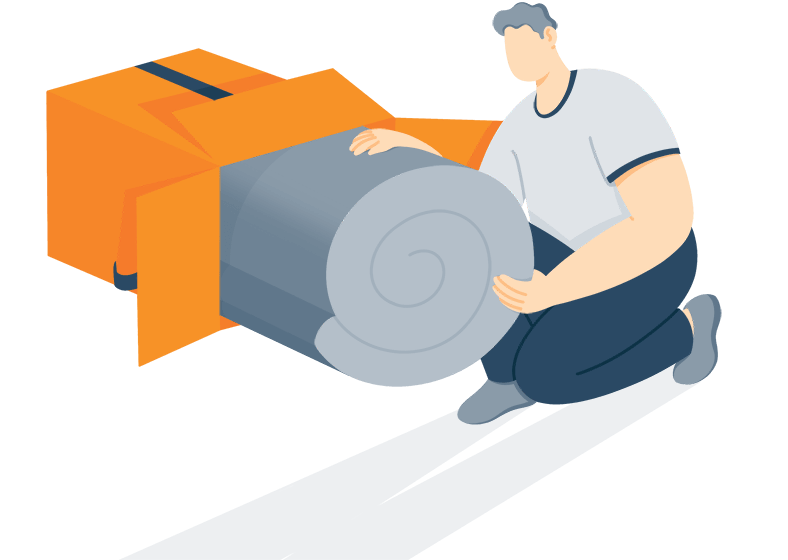 National Charity Organizations
Many national charity organizations accept mattress donations. Some of these organizations take your mattress and gift it to someone in need. Others take your mattress and sell it through a resale store, then use the profits to purchase necessities for the families they assist.
Here are a few national charities that typically accept mattresses:
Habitat for Humanity
The National Furniture Bank Association
The Salvation Army
We recommend checking for branches of these charities in your area. Often, organizations that pick up mattresses for free are only willing to drive thirty miles or less to acquire donations.
If you can't find any charities near you that pick up mattresses for free, you can also consider renting a truck and dropping off the mattress yourself. This option takes just as much work as hauling a mattress to a recycling or waste management center but ensures that a perfectly good bed doesn't go to waste.
Local Charity Organizations
If you can't find a national charity to which to donate the mattress, you can also look into the local charities. We recommend doing a quick Google search for "charities accepting furniture near me." This type of search may show you thrift stores, furniture banks, shelters, and other types of organizations in need of mattresses.
Once you find a few options, we recommend calling each one directly and asking if it currently accepts used mattresses. You can also ask whether the organization picks up mattresses or if you would need to drop it off yourself.
Recycle Your Old Mattress
If you cannot donate your used mattress to a charity organization, recycling it is another way to keep it from the landfill and get a second life out of its components. Many mattresses consist of at least 75% recyclable materials.[1]
However, you can't simply place a mattress in a curbside recycling bin. Instead, you'll need to call upon a mattress recycling service to break down the bed into its recyclable parts for you, then donate them to the appropriate recycling centers.
Common mattress materials that are recyclable include:
Foam
Fabric and fibers
Metal coils
Wood frames (on box springs)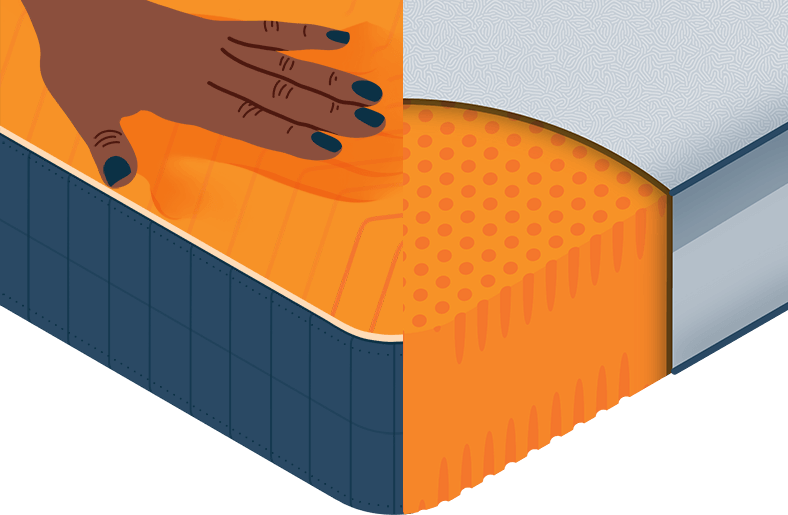 Mattress recycling companies can repurpose these materials in various ways. For example, the wood from box springs can become mulch or animal bedding. Meanwhile, the fabrics and foams can find a second life in pillows.
Keep in mind that recycling your mattress probably won't be free. You'll need to pay the recycling company for the labor and time involved in breaking down your mattress. You may also need to pay to pick up your mattress if you don't want to drop it off yourself.
Either way, recycling your mattress is an eco-friendly alternative to simply throwing it in a landfill.
Mattress-Recycling Services
We recommend researching mattress-recycling services in your area to learn the exact procedures to follow to recycle your mattress.
Reuse the Mattress
If you can't donate your mattress or recycle it through a recycling center, you can also consider reusing it. The easiest way to reuse a bed is simply to move it to another room in your house to create an extra place for guests to sleep when they visit. Even placing your mattress in the basement can expand your hosting abilities.
But if you don't need another mattress in your home, you can also repurpose its materials. Breaking down the mattress yourself can make it easier to dispose of the non-recyclable materials without renting a truck. You'll also gain access to valuable materials to use throughout your home.
DIY Guide & Tips
If you have a creative side, the world is your oyster for the types of projects for which you can repurpose your mattress. Many people have made wildly imaginative art displays, home decor, and even functional items out of the components within their mattresses. With a bit of creativity, you can also use these materials to your advantage throughout your home.
To spark your inspiration, we've listed a few ways other people have repurposed their mattress materials. Here are a few tips for how to repurpose your mattress in your garden, as home repair materials, and as attractive decor.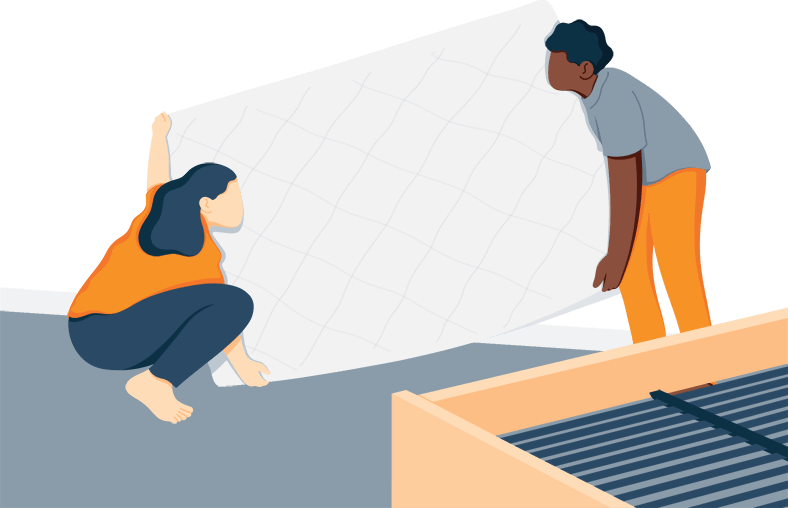 You can repurpose mattress springs into plant holders or backyard trellises. If your mattress consists of one unified spring layer, you can remove this layer and hang it in your garden to house plants outside. You can also separate each spring and place a small plant pot in the coils as a decorative way to display indoor plants.
If you're moving to a new house and don't want to bring your old mattress with you, you can consider using the padding and outer materials as furniture blankets during your move. You can also use these materials as insulation in some cases.
Some homeowners have also used their mattress springs as dish holders in their kitchens. Simply attach chains to the mattress spring layer and hang it from the ceiling, then use hooks to hang mugs, bowls, glasses, and utensils from the springs.
Resell or Give It Away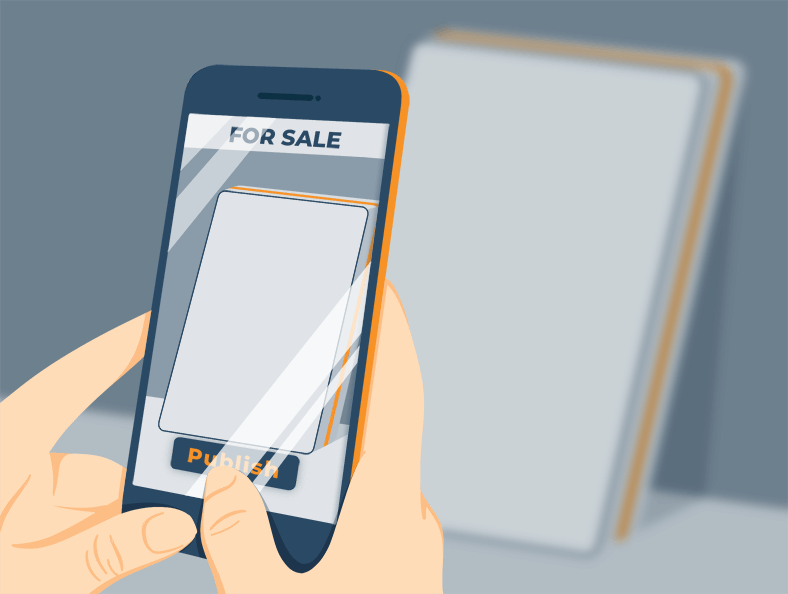 If you'd like to make a few bucks from your mattress, you can also consider selling it. We only recommend selling beds that are in excellent condition without any central sagging. Your mattress should also be clean and come from a smoke-free home.
Sites like Facebook Marketplace, eBay, and Craigslist make it easy to sell or give away items to local buyers. Simply take a few pictures of your mattress, upload them to these platforms, and state your listing price. Then, buyers within your area can reach out to you to arrange a time and place to pick up the mattress.
If you're simply trying to get rid of your mattress, listing it for free on one of the above platforms could save you some time and effort. If your bed is still in good condition, people may be willing to pick it up from your house and haul it away for you, saving you the work of taking it to a donation center.
You can also reach out to friends and family members to see if anyone is interested in taking the mattress off your hands. Your friends may be more likely to trust that the mattress is clean and in good condition than total strangers would.
Get More Info: How to Sell Used Mattress
How to Throw Away a Mattress
If none of the above options works for you, your last resort would be to throw away the mattress. This option is best suited for mattresses that are no longer usable, are excessively dirty, or have experienced bed-bug contamination. If your mattress is in an unsafe or unsanitary condition, disposing of it can reduce the risk of spreading this contamination elsewhere.
While throwing your mattress away may seem like the easiest option, you'll still need to follow specific procedures to dispose of the bed properly. For example, you may not realize that dumping a mattress is illegal in most cities. You can't simply place your mattress in a dumpster—doing so could leave you with up to $10,000 in fines or even incarceration.
Instead, you'll need to dispose of your mattress in one of four ways:
Calling a junk removal service
Taking it to a landfill
Setting the bed out on heavy trash day
Breaking it down and throwing it away in garbage bags
Keep in mind that the availability of each of these options depends on your local waste removal regulations. You'll want to be sure you understand your city's policies before proceeding.
Junk Removal
Junk removal companies have the equipment and resources necessary to come to your house and haul away large items you no longer need. While you must pay for these services, they save you the labor involved in throwing out your old mattress. Better yet, many companies do their best to recycle or donate furniture before resorting to throwing it away.
You can find junk removal services by Googling "junk removal near me." These companies often provide free quotes so that you know exactly how much their services will cost you. Then, they handle everything from wrapping up your mattress to hauling it out of your house to finding the best use for it.
However, some junk removal companies have policies about the types of mattresses they will and will not take. For example, some companies will not handle mattresses that have had bed bugs or have been contaminated with hazardous materials.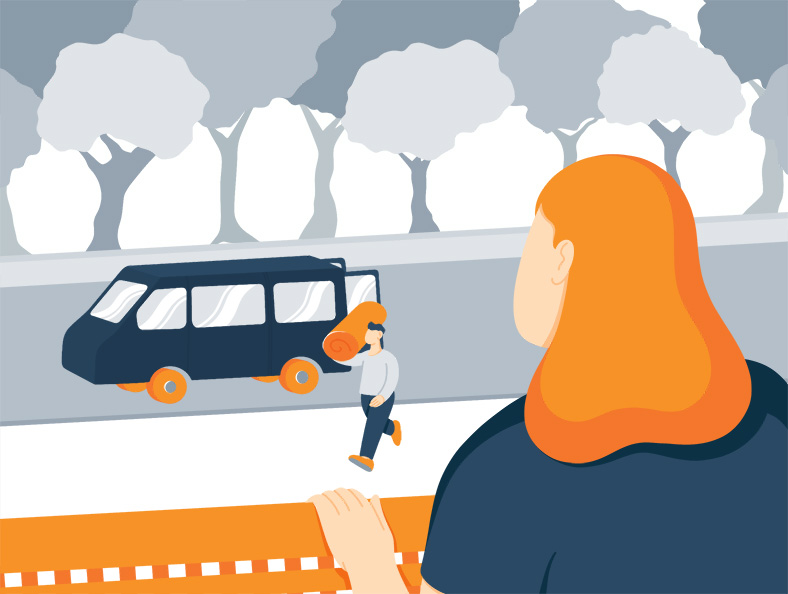 Landfill
Another way to dispose of your mattress is to take it to a landfill. Of course, you'll want to make sure your dump allows you to drop off items yourself before proceeding. If it does, your most challenging task will be to get the mattress from your house to the landfill.
Transporting a mattress yourself can be challenging, as the heaviest hybrid mattresses can weigh upwards of 200 pounds. Before you attempt to move your bed, we recommend enlisting two or three other people to help you to avoid any unnecessary injuries in the process.
If you have a pick-up truck, your mattress should fit nicely in the bed of the truck. If not, you can attempt to tie it to the roof of your car.
You can secure the mattress by weaving rope through the windows and around the mattress several times. If you're unsure how to do so, and to make the process as smooth as possible, we recommend watching a few videos before you begin.
It doesn't matter if the mattress remains in good condition on your journey—just do the best you can to transport it safely to the landfill.
Trash Day
Typically, you cannot set a mattress out at the curb on a regular trash day and expect your waste company to pick it up. However, some waste management companies offer special "heavy trash" days during which you can set large items like mattresses out for pick-up. Others allow customers one free heavy trash pick-up each year.
In either case, most waste removal services require you to secure your mattress in plastic before setting it out with the trash. This rule is in place to prevent the spread of bed bugs when homeowners dispose of their mattresses.
The easiest way to wrap your bed in plastic is to purchase a plastic mattress bag from a major retailer like Home Depot or Walmart. These bags typically cost less than $10, and you can buy them to fit your specific mattress size, saving you the hassle of needing to wrap the mattress in sheet plastic.
Once you place your mattress in the bag, simply seal it up with packing tape and leave it out by the curb for pick-up. The worst that can happen is that your company refuses to pick it up, requiring you to find another solution.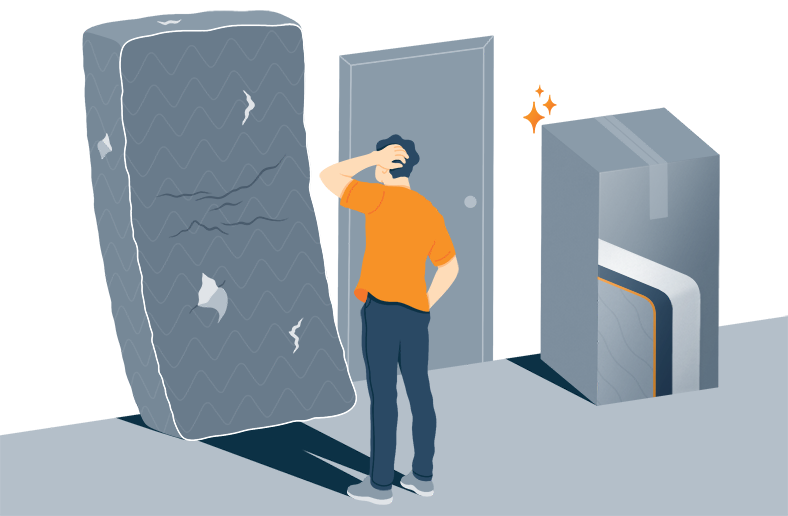 Break It Down
If your local waste management company does not offer heavy trash pick-up, another option is to break down the mattress into smaller pieces and throw them out in trash bags. Cutting the mattress down also allows you to remove the recyclable parts, lessening the environmental impact of throwing the mattress away.
You can follow these steps to break down your mattress for disposal:
Take the mattress outside.
Remove the piping along the mattress's edge using a utility knife.
Cut away the outer mattress cover using a seam ripper and pliers.
Remove the inner padding.
Separate the mattress into its layers and cut them down using your utility knife.
Break the springs into smaller pieces using a bolt cutter.
Breaking down your mattress this way will take some time, and you should take caution if you're not familiar with these tools. However, after a few hours of work, your mattress should be in small enough pieces to fit in garbage bags—which your waste management company should pick up as usual.
Conclusion
Disposing of an old mattress isn't as simple as taking it out to the dumpster or setting it by the curb. Before you consider throwing your mattress away, you should take time to understand how you could make better use of it, such as by donating it to someone in need, recycling its materials, or repurposing it. The environment will thank you.
Now that you know the best ways to dispose of a mattress, you can begin planning your new mattress purchase. You'll appreciate your new bed more knowing that you took all of the necessary measures to dispose of your old one safely and ecologically.
Katie is a content writer and serial hobby collector who enjoys naps almost as much as her pets do. When she isn't writing, she likes to ride her motorcycle, catch Pokemon with her hubby, and practice yoga with her dog.