Transparency Disclosure – We may receive a referral fee for products purchased through the links on our site...

Read More

.
Did you know that your sheets can affect how soft or firm your mattress feels?
Neither did we until we discovered DreamFit.
Their bedding comes in six different styles, called "degrees," so they're available in a variety of materials and a range of price points. Regardless of which design you choose, they claim that their patented system provides the optimal fit of your sheets to your mattress. They've educated consumers to realize that if your bedsheets don't fit your bed properly, your mattress can end up feeling firmer and less supportive than if everything fit like it was supposed to.
Whichever style you get, all DreamFit products feature a patented elastic system that better fits today's thicker mattresses. The elastic is also wider and stronger than what you typically see among the competition. If you've ever had a fitted sheet completely lose its elastic, you know how frustrating that can be!
A good set of bedsheets is about more than just how well the fitted base layer stays put. In this review, we'll further explore all the features of the DreamFit 6 Degree Bed Sheets and share our opinion about whether they're a good buy.
DreamFit 6 Degree Sheets – Key Features
100% Tencel (eucalyptus)
Elastic corner snaps keep the fitted sheet in place
Hypoallergenic and bacteria resistant
The top sheet is quilted for extra weight and warmth
Sateen weave
Available in three colors: snow, cream, and morning mist
One-year warranty
Made in the USA
Pros & Cons
Pros
Eco-friendly
Luxurious feel
Lightweight and breathable
Highly durable
Fitted sheet stays in place
Slightly wider and longer measurements to fit all mattresses
Low maintenance cleaning
Cons
Only three colors available
More expensive than other brands
Material / Style
These bedsheets are made from 100% Tencel, which is a product of the eucalyptus tree. People concerned about the environment will appreciate the use of Tencel because, unlike cotton, it's environmentally friendly.
It takes much less water to farm eucalyptus than cotton, and there's also limited or no pesticide use. Further, while cotton tends to grow horizontally and take up a lot of land, eucalyptus grows more vertically so you can get more yield on a smaller plot of land.
The style of the top sheet has quilted stitching, and it can function as a lightweight blanket or a comforter during the warmer months, negating the need for heavy bedding. The only thing that we feel necessary to note is that you may or may not like the look of the quilted stitching.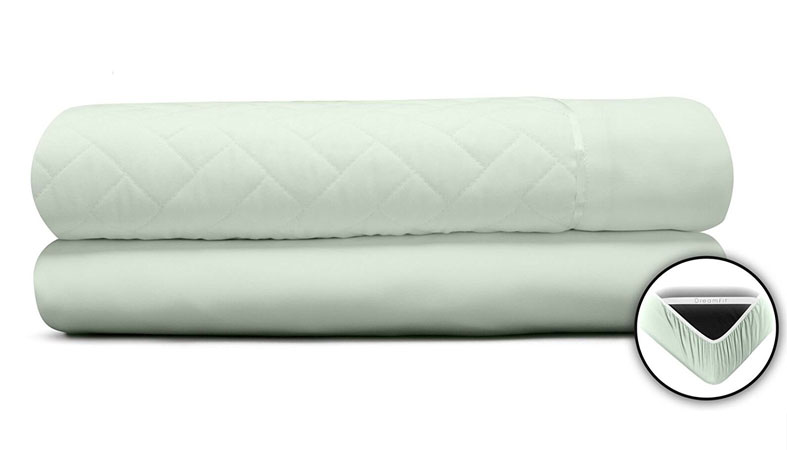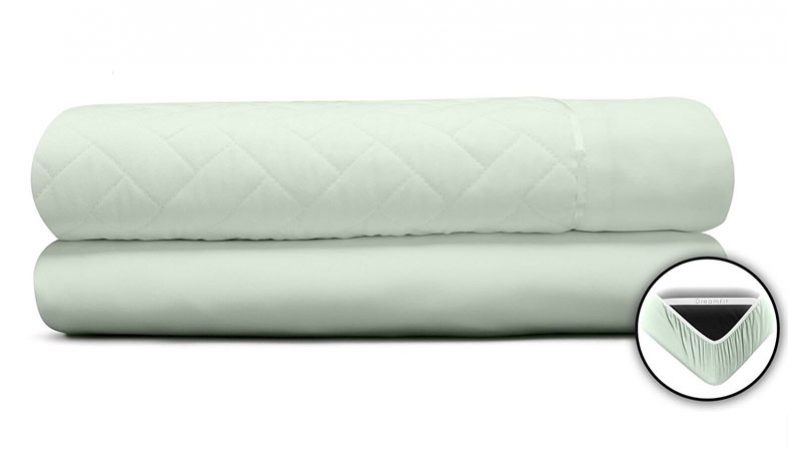 Build Quality
DreamFit 6 Degree bedsheets are exceptionally well-made. The stitching is very precise, especially considering the intricacies of quilted detailing.
What's most interesting about the DreamFit collection is the secure bands on the fitted sheets. It's sadly very common for the elastic on the corners to lose its strength over time. Not so with DreamFit. Not only is the elastic wider and stronger than other brands, but it also has a sturdy band that goes underneath the mattress.
There's no way the fitted sheet will move or shift while you sleep, and that also makes your bed easier to make in the morning!
Durability
The reviews are mixed about DreamFit's durability. Even though it's unanimous that these bedsheets are incredibly comfortable, some people have found that they'll develop holes, often within six months. Fortunately, the company offers a one-year warranty and will happily replace anything that's defective, but considering the higher price point, it can be discouraging to find a hole.
Also, if you plan on giving bedding as a gift, it could be rather embarrassing to give these to someone and have the item fall apart so soon after your recipient got their gift.
Another thing to keep in mind with this material is shrinkage. When put in the dryer, it tends to shrink slightly more than average. However, since this brand is already made to be wider and longer than traditional bedsheets, you should still have plenty of material left to fit your bed adequately.
Weight
The sheets themselves are lightweight, however, remember that the top one is quilted and heavier. The heavier top layer also means that it'll take up more room in your washing machine as well as take longer to dry in the dryer.
Still, many husband and wife duos love the compromise of this bedding set. If one person in the relationship sleeps hotter than the other, they can get by with just top quilted portion, and the person who wants more warmth can add a blanket to their side of the bed only.
Feel & Comfort
Tencel is an incredibly silky, smooth fabric. While bamboo bedding has become a recent trend, we think that Tencel (sourced from eucalyptus) is much softer. The reason is that bamboo is a naturally hard material, and it takes a lot of processing to make it comfortable. Eucalyptus is naturally softer and is much more environmentally friendly to produce.
The biggest advantage of this brand is that the fitted layer doesn't move or fall off during the night. If you've ever woken up in the middle of the night with your sheets crumpled at the foot of your bed, you know how frustrating that can be!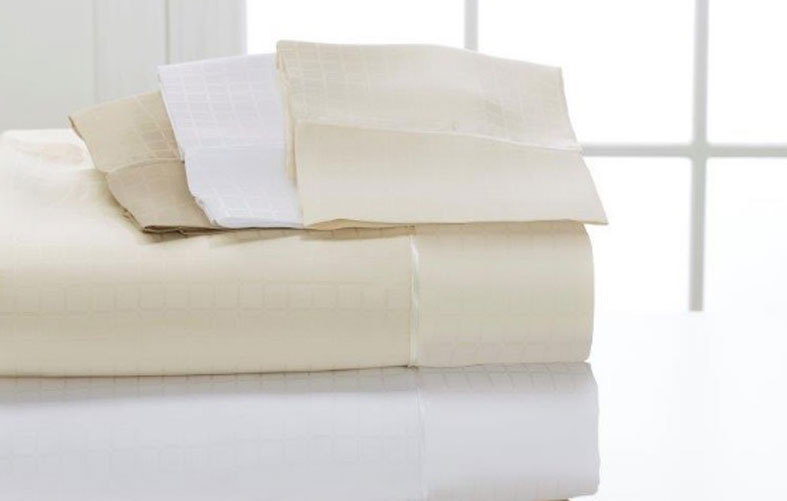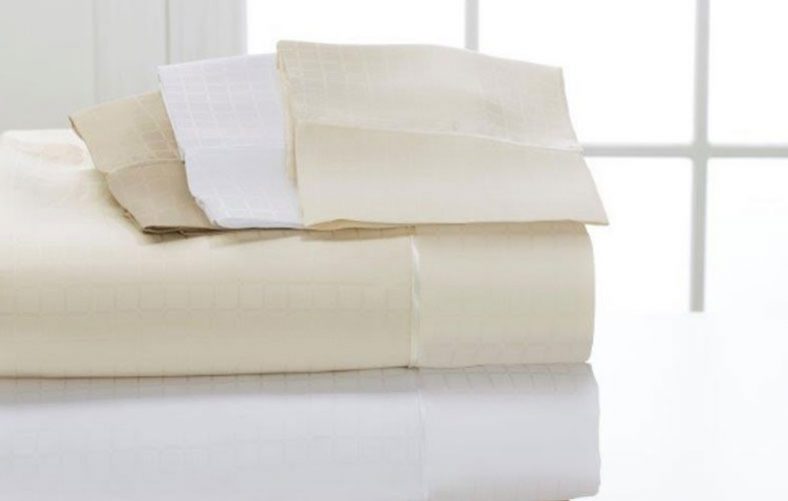 Price / Value
These bed linens are not cheap! However, if you take your sleep seriously, you'll find that these are worth the price. The premium Tencel fabric is soft and luxurious.
Plus, the top quilted layer is almost like getting a lightweight comforter included in your set. Considering that comforters can easily cost between $100 and $300, we think it's a bargain that this option is already built in to the product.
Who Should Buy DreamFit 6 Degree Sheets?
If you want soft and silky sheets, DreamTit 6 Degree is a fantastic buy. This set is also perfect for someone who sleeps hot and likes the idea of a comforter without all the weight and heat.
The people who will appreciate DreamFit most are those who get annoyed by having to make their bed and struggle with getting the fitted sheet to stay put. One of the most frustrating things when making your bed is when you are trying to get the elastic corners to line up.
It seems like more often than not, the alignment is completely off and we end up with the shorter side of the sheet not stretching to fit the longer side of the mattress. DreamFit's superior construction and color coding on the corners means this will never be a problem. To some people, including us, that's worth way more than the sticker price!
Who Shouldn't Buy DreamFit 6 Degree Sheets?
If you want a very light top flat sheet, the quilted dual layer may turn you off. It's heavier than regular, and it has stitching that might not suit your style. Also, keep in mind that the additional fabric is going to take longer to dry in the dryer. If you're energy conscious or you want your items to dry more quickly, it can be frustrating having to wait for this bedsheet set to dry.
DreamFit has several styles to choose from. The DreamFit 6 Degree set is not one of the lower-priced options. If you're looking for something that's easy on the pocketbook, we recommend looking at a different style. Degree 1 and 2 have the lowest prices, but still feature the same superior fit.
Conclusion
---
Sheets haven't changed much over the years, and that's why we appreciate DreamFit. They easily could have created a copycat version of other brands out there, but instead, they innovated and developed something we've never seen before.
If you've ever experienced the frustration that comes with a fitted sheet that moves around, bunches or even comes off, you'll love the difference you experience with DreamFit.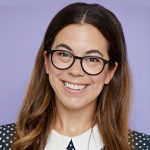 Jill Zwarensteyn is the editor for Sleep Advisor and a certified sleep science coach. She is enthusiastic about providing helpful and engaging information on all things sleep and wellness.
Based in Los Angeles, she is an experienced writer and journalist who enjoys spending her free time at the beach, hiking, reading, or exploring new places around town.
She's also an avid traveler who has a personal goal of being able to successfully sleep on an airplane someday.