Transparency Disclosure – We may receive a referral fee for products purchased through the links on our site...

Read More

.
Would you like to drift off to sleep with a supportive memory foam pillow under your head, but you're afraid you'll wake up in a sweat? Given memory foam's reputation for heating up, it's understandable why you may have this concern, but perhaps the DreamCloud Best Rest pillow can be a great solution.
In this review, we will give you the ins and outs of DreamCloud's Best Rest pillow and see if it lives up to its claims of being cool-to-the-touch, as well as temperature regulating. We will also break down the materials that are used, look at how well the construction holds up, assess how it performs in other important areas like comfort and support, and see how compatible we think it is for different sleep positions. Keep reading to find out our take on this pillow from the DreamCloud brand.
Who Is the DreamCloud Best Rest Pillow Best for?
Who Might Like the DreamCloud Best Rest Pillow:
Hot sleepers – The polyethylene-blend cover gives a cool-to-the-touch feel, and the gel-infused memory foam provides temperature regulation throughout the night.


---

Back and side sleepers – The supportiveness and loft of this pillow make it great for the kind of pressure relief and spinal alignment that these sleepers need.


---

Memory foam fans – Those who like the responsiveness and cushioning of memory foam are likely to be well-served by this pillow.
Who Might Not Like the DreamCloud Best Rest Pillow:
People who like down or down alternative pillows – The DreamCloud Best Rest Pillow doesn't provide the fluffiness or deep sinkage of down alternative and down pillows.


---

Folks who want a machine-washable pillow – This pillow should only be spot cleaned. Therefore, if you're looking for a pillow that can be thrown in the washing machine, this is probably not the best option for you.


---

Budget shoppers – Shoppers who are watching their bedroom budget may want to search for an alternative to this pillow. Read more about affordable pillows here.
Sleep Advisor's Testing Methodology
Sleep Advisor thoroughly tests products, including pillows, to bring you a comprehensive overview. By evaluating and analyzing the construction, firmness, feel, loft, and weight, and testing its performance during a variety of sleep positions, we aim to provide you with all the detailed information that you need when you're considering buying a sleep product such as the DreamCloud Best Rest Pillow.
What is the DreamCloud Best Rest Pillow Made of?
Cover
The Best Rest pillow's cover is mainly made up of a blend of polyethylene and polyester, but it also has a small amount of spandex to make it feel cool to the touch. You can remove this cover, but it is not machine washable.
Core
Fans of the contouring feel of memory foam should enjoy that the core of the Best Rest pillow is made from a solid piece of memory foam. Given that memory foam can run hot, though, DreamCloud infuses it with a cooling gel. For additional airflow, the memory foam is also perforated.
DreamCloud Best Rest Pillow Firmness & Feel
Firmness
A pillow's firmness is how hard or soft it feels when you're sleeping on it. Of course, this is subjective, but as for the Best Rest, we consider it a medium-firm pillow, which means it should be suitable for a large range of people.
The memory foam makes it responsive, so when you push your head into it, it will quickly bounce back to its original shape when you raise your head. While this pillow should provide gentle contouring, your head won't sink in as it would with a down or down alternative pillow, and most sleepers should find that their head and neck are securely supported with the Best Rest.
Feel
The Best Rest has a rectangular shape with an even surface. The quilted cover is soft and the spandex blend makes it cool to the touch. When you put your head into the pillow, you should feel how responsive the memory foam core is and notice good support for your neck.
Loft
The loft, or the height of the pillow, is an important factor to consider. Different sleep positions require different lofts. Whereas stomach sleepers keep their spines aligned better with flatter pillows, side sleepers are generally better served by higher pillows, and back sleepers are likely to find the kind of support they need with pillows that have a medium loft.
DreamCloud's Best Rest pillow comes in at 5.5 inches which makes it a fairly tall pillow. This should make it great for side sleepers and some back sleepers will find that it suits their needs too. However, most stomach sleepers will probably find it too lofty.
Weight (Density of the Pillow)
The solid block of memory foam makes these pillows fairly dense. The standard pillow weighs 4.7 pounds, and you'll be lifting 6.2 pounds if you go with the King-size Best Rest.
Sleeping on the DreamCloud Best Rest Pillow
A cool pillow can be one of life's small pleasures, and we like that the Best Rest pillow does an excellent job of providing a cooling sensation throughout the night. In addition to how well it does at regulating temperature, we appreciate the even shape and gentle contouring that is provided by the block of memory foam. This pillow's responsiveness and how fast it bounces back into shape is a great aspect for those who don't like to frequently fluff their pillows.
| Side Sleepers | Back Sleepers | Stomach Sleepers |
| --- | --- | --- |
| ★★★ | ★★☆ | ☆☆☆ |
Side Sleepers
The loft of the Best Rest is beneficial to side sleepers, as is its supportive memory foam core. These characteristics help keep side sleepers' heads and necks properly elevated. By not having a sagging head or neck, folks who prefer to sleep in this position should experience proper spinal alignment, which can help alleviate neck pain. 
Back Sleepers
Although this pillow may be slightly on the higher side for some sleepers, overall, many back sleepers should be well served by the supportive Best Rest. Despite its loft, the flat, rectangular shape should prevent strenuous craning that can happen with taller pillows. 
Stomach Sleepers
People who primarily sleep on their stomachs will likely want to skip sleeping on the Best Rest. The higher loft may cause too much stress on the neck if you spend most of the night sleeping on your stomach, which in turn could cause neck and upper back pain. 
Read More: Best Pillows for Stomach Sleepers
DreamCloud Best Rest Pillow Sizing Options & Pricing
| Size | Dimensions | Price w/o Discount |
| --- | --- | --- |
| Standard | 16" x 25" | $99 |
| King | 16" x 32" | $129 |
Sleep Advisor's Performance Ratings for the DreamCloud Best Rest Pillow
The DreamCloud Best Rest pillow excels when it comes to cooling. If you are a fan of memory foam but have steered clear due to its reputation of being hot, you will want to give this pillow a try. The gel that is infused into the memory foam helps dissipate heat that may otherwise get trapped in the core's block. Furthermore, the foam's perforation allows air to flow through it more freely, while the spandex blend in the cover allows it to feel cool to the touch.
The solid block of high-density memory foam provides an overall supportive base. It should support your head and neck which will help keep your spine aligned. Additionally, it is both bouncy and responsive. Therefore, this pillow will quickly regain its original shape after use so you shouldn't have to worry about fluffing your pillow throughout the night.
By using quality materials and solid craftsmanship, DreamCloud has produced a pillow that should be around for a long time. The cover's combination of polyethylene, polyester, and sturdy stitching indicates that it should hold up well through normal wear and tear. Also, memory foam is a product known for its durability.
Comfort is a huge factor when we settle in for a night's rest, and there is no shortness in that department when it comes to this pillow. The cover is both soft and cool, while the responsive memory foam core provides gentle contouring and substantial support. However, those who sleep on their stomach will likely find this pillow too tall to provide them comfort.
Memory foam can often give off a chemical scent that is known as off-gassing. When this occurs, many people choose to wait until the scent dissipates before sleeping on the product. However, there should be little to no off-gassing with the DreamCloud. Therefore, you should be able to use it immediately if you so choose.
Although DreamCloud does not explicitly state that this pillow is hypoallergenic, memory foam is known to be an excellent choice for those who experience allergies. Furthermore, the cover's materials should do a good job of combating many common allergens.
One of the biggest drawbacks of this pillow is that despite the cover being removable, it is not machine washable. If your pillow gets dirty or stained, you should spot-clean it using cold water and a mild cleaning solution.
DreamCloud provides you with a 50-night sleep trial so that you can take your time before deciding if the Best Rest is a keeper. However, if you decide to keep it, please note that there is no warranty.
DreamCloud Best Rest Pillow Frequently Asked Questions
How long does it take for the DreamCloud Best Rest Pillow to expand?
Considering that this pillow is shipped in a box and made from memory foam, it may take 24-48 hours for it to fully expand. However, most people will find it ready to use either immediately or a few hours after receiving it, though it may continue to get softer and more expansive in the coming hours or days.
What is the shipping policy for the DreamCloud Best Rest Pillow?
The DreamCloud Best Rest pillow ships for free within the continental United States. It can be shipped to Alaska and Hawaii for an additional fee.
Should I use a pillowcase with the DreamCloud Best Rest Pillow?
Yes, you should use a pillowcase with the DreamCloud Best Rest pillow as it's not machine washable. Therefore, a pillowcase will help keep the pillow dirt and stain-free.
How Does the DreamCloud Best Rest Pillow Compare to Other Pillows?
DreamCloud Best Rest Pillow vs Nectar Resident Pillow
Nectar Pillow
A memory foam pillow with adjustable firmness levels.
Sleep Advisor Score
4.80 / 5
Who Should Get the DreamCloud Best Rest Pillow?
Back and side sleepers
Those who sleep hot
Fans of memory foam
Who Should Get the Nectar Resident Pillow?
Fans of adjustable fill pillows
Side sleepers
Those who want a substantial sleep trial
For more on Nectar's pillow, visit our Nectar Resident pillow review.
DreamCloud Best Rest Pillow vs Brooklinen Down Pillow
Brooklinen Down Pillow
The Brooklinen Down pillow is available in three firmness levels, making it versatile for a variety of sleepers.
Sleep Advisor Score
4.30 / 5
Who Should Get the DreamCloud Best Rest Pillow?
Folks who don't want to fluff their pillow into shape
Those who like pillows with a flat, even surface
People who like supportive pillows with gentle contouring
Who Should Get the Brooklinen Down Pillow?
Back, side, and stomach sleepers
Fans of soft, plush down pillows
Those who like to fluff their pillows into different shapes
For more on Brooklinen's pillow, visit our Brooklinen Down pillow review.
Our Final Thoughts on the DreamCloud Best Rest Pillow
The DreamCloud Best Rest is a solid memory foam pillow. It has excellent responsiveness and quickly regains its shape, meaning sleepers won't have to worry about fluffing their pillow back into shape.
Although memory foam is not typically known for its cooling properties, this pillow is a huge exception. DreamCloud infuses gel into their pillow's perforated foam to keep the temperature regulated and air flowing through it. Additionally, the cover's use of a small amount of spandex blend keeps this pillow cool to the touch.
Dedicated stomach sleepers will likely want to avoid this pillow due in large part to its height, but back and side sleepers should find this to be a supportive and comfortable pillow. Our overall score for this product is 4.1 out of 5.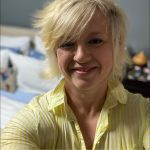 Sosha Lewis is a staff writer for Sleep Advisor.  Lewis is happy that she is able to combine her love of sleep with her love of writing. Lewis also has had articles featured in The Washington Post, Huffington Post, MUTHA Magazine, Charlotte Magazine, and The Charlotte Observer. Her weekly column, Soshally Awkward, is featured on the nationally-syndicated radio show, Bob & Sheri.
She lives in Charlotte, NC with her husband, daughter, and lovable trash-panda of a dog, Olive.