Transparency Disclosure – We may receive a referral fee for products purchased through the links on our site...

Read More

.
While there are dozens of bed in a box mattresses available online, Wayfair has continued to stand out in the industry in both affordability and comfort. Benefits of the online furniture route include convenient shopping, affordability, and sleep trials. The Nora 12" is one of our favorite options, with durable all-foam construction and several high-end features for temperature regulation and pressure relief.
Whether you're a stomach sleeper, a cost-conscious shopper, or someone who struggles with lower back pain, this product should meet most needs. In this Wayfair mattress review, we take an in-depth look at the Nora 12", along with its features, advantages, and drawbacks.
Are you already familiar with the Nora 12"? Skip ahead to our final verdict.
This mattress is no longer available for purchase. To help you find your next mattress, check out our list of the best mattresses available on the market now.
Noteworthy Updates
Wayfair offers a free mobile app with several handy features. Using this app, you can visualize products in your home before buying, shop all product categories, and track packages in real-time to determine when they will arrive at your door. The app's push notifications also give you access to the latest sales and new product releases.
With Wayfair financing, you can pay for your new mattress over time. You can obtain financing with a single application and choose "Wayfair Financing" as the payment method at checkout.
Excellent Matches For Wayfair
Back and Stomach Sleepers – The medium-firm top foam layers of the Nora 12" reduce the tension on the muscles and arteries when sleeping on your back or stomach. The low degree of sinkage keeps your midsection level with your shoulders and ears, aligning your body to keep your spine in a neutral and comfortable position.


---

Value Seekers – Unlike most high-end store-bought mattresses, the Nora 12" has an affordable price tag. However, with this product, you get the same luxury fabric feel, durable construction, high-tech foams, and other features that higher-ticket mattresses have to offer.


---

Couples – This brand offers a wide range of features to make sharing a bed with someone else more comfortable. Couples can choose from a wide size selection and enjoy the latest cooling technology, low motion transfer, and decent edge support.
Possible Wayfair Considerations:
No removable cover included – Without a protecting cover, your mattress is susceptible to damage from liquids, dirt, and grime, especially if you have pets and children. Even though this mattress comes with a protective jade gemstone cover, it is not removable, making cleaning a potential hassle. We recommend buying a removable cover that fits your bed.


---

Edge inflation can take a long time – According to the manufacturer, the inflation process takes 72 hours after removing the product from its packaging. Waiting three days for the edges to inflate can be inconvenient, especially if you no longer have your old bed. Ideally, you need to wait until the mattress finishes inflating before using it.
Weight Considerations
The Nora 12" has a maximum weight-bearing capacity of 750 pounds, or 375 pounds per person in the case of a couple. This weight limit is sufficient for most people, and it contributes to the mattress's relatively long functional lifespan.
Along with this load-bearing ability, the firmness level of the top foam layers also makes this product suitable for heavier-set sleepers. If you weigh more than 220 pounds and lie on your back, the foam is firm enough to prevent your hips from sinking in, making it easier for you to maintain a healthy and comfortable body posture.
The bed might be suitable for lightweight front or back sleepers, making it a viable option for partners who don't have the same body type. However, if you are slender and prefer sleeping on your side, the mattress may be too firm and uncomfortable for you.
Construction: What's In Wayfair?
This Wayfair mattress stands 12 inches high and consists of four foam layers and a cover:
The gemstone jade-infused cover is not removable but has thermo-regulating properties, keeping the sleeping surface cool and comfortable. The cover is hypoallergenic and should be resistant to mold, dust, bacteria, and pollen. If you suffer from allergies or skin irritation, this easy-to-clean cover could help alleviate your symptoms.
The top layer is a 2 inch layer of  gel-infused memory foam with a medium plush firmness level. The gel infusions help to dissipate body heat, and the foam contours comfortably around the body, reducing pressure on the muscles and joints, but without forgoing support.
Underneath the top layer is a three-inch gel-infused memory foam layer with a medium-firm firmness level. This layer also features cooling gel infusions, but its structure is more supporting than contouring. With its higher firmness level, this layer provides the necessary body-aligning support for heavier-set sleepers.
The bottom two layers are the same. Each high-density support foam layer has a thickness of 3.5 inches with an egg crate design that allows unrestricted airflow through the mattress, preventing heat build-up. These layers can also compress to provide pressure relief, but their primary function is to provide upthrust and structure to the mattress.
All materials are breathable and of the highest quality, and you can expect them to retain their structure throughout the product's functional lifespan. The foam and cover are also odor resistant, making your life easier with pets.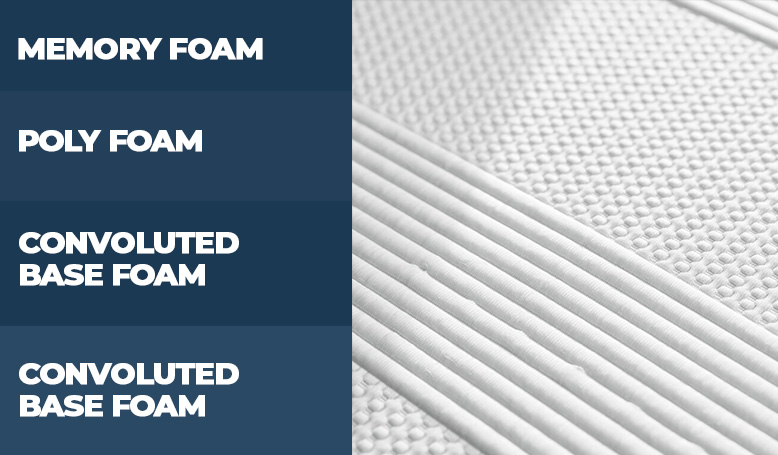 First Impression: How Does It Feel?
Unboxing this product is a relatively straightforward process. All you need to do is remove it from the box and let it inflate by itself.
When you sit or lie on the Nora 12" for the first time, the luxury texture of the cover fabric and the upthrust of the foam will likely be the first things you experience. Most people who try this product out for the first time find its firmness surprising, despite its classification as a medium-firm sleeping surface.
The top layers have little sinkage but are comfortable, and the top foam layer's softness is relaxing and soothing to sore muscles. This surface has almost no bounce, which is due to its movement isolation properties.
Firmness Scale: 6.5/10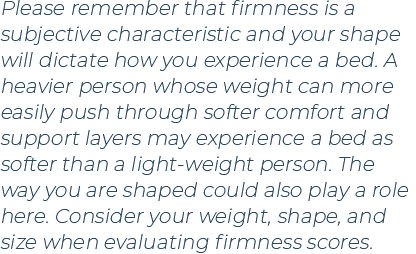 Pressure Relief
The Nora 12" from Wayfair has a design that leans more toward support than pressure relief. However, the plush top layer offers a degree of contouring, which means it responds to the shape of your body, alleviating pressure points.
Back and stomach sleepers have a lower requirement for pressure relief. As a side sleeper, you have more protruding body parts in contact with the sleeping surface, including your hips, elbows, and shoulders.
With its relatively high firmness, this product doesn't provide optimal pressure relief for side sleepers. Still, you will likely feel comfortable in all sleeping positions if you are on the heavier side and can sink into the layers.
Support
Maintaining a correct body posture is critical to promote your spine health, even when you sleep. When you lie in bed, your ears, shoulders, and hips must be at the same level and parallel to the ground. This posture improves blood flow, promotes nerve and blood vessel health, and keeps your spine at its natural curve, preventing back pain.
Maintaining this body posture is only possible on a soft mattress if you have a slender, lightweight build. If you are heavier and lie on a soft bed, your midsection may sink in and pull your entire body out of alignment.
As a firmer mattress, the Nora 12" solves this problem for heavy sleepers. The stiffer, sturdier foam layers provide your body with the support it needs to stay in a healthy posture while you sleep.
Preference-based Features
Cooling
According to Wayfair's product description, the Nora 12" features cooling technology. The memory foam layers feature thermal gel to draw the heat away from you while you sleep.
Another cooling feature we found is a jade integration in the cover. Jade is a gemstone that stays cool to the touch, even in a warm environment.
Edge Support
If you tend to sleep near the edge of your bed, you know that this area is prone to sagging. However, with the Nora 12", this is not a problem, as the high-density foam layers provide structural support from edge to edge.
Great Motion Isolation
Do you sometimes wake up in the morning feeling more tired than you were before you went to bed the previous night? Your partner's movements can disturb your sleep cycles, reducing your quality of sleep. This mattress's upper foam layers absorb movements so that they don't transfer throughout the sleeping surface.
Adjustable Base Compatible
Are you looking to replace your entire bed? The Nora 12" is compatible with the adjustable bed bases from Wayfair. With these bases, you can adjust your sleeping position to alleviate conditions such as sleep apnea or heartburn.
Hypoallergenic Materials
If you chronically suffer from allergies and irritation of the skin, eyes, or throat, your mattress likely has a build-up of contaminants such as dust mites, bacteria, dust, pollen, and mold. Switching to the Wayfair mattress can alleviate these symptoms as the materials are hypoallergenic and resistant to microbes.
This mattress is no longer available for purchase. To help you find your next mattress, check out our list of the best mattresses available on the market now.
Certifications
CertiPUR-US® Certified
The foams in the Nora 12" are CertiPUR-US® certified, which means their production didn't involve the use of PBDE, TCEP, or TDCPP flame retardants or CPSC-regulated phthalates. These foams also contain no lead, formaldehyde, or mercury.
CertiPUR-US® certified foams have a low volatile organic compound (VOC) count. VOCs are responsible for off-gassing after unboxing, which is an unpleasant chemical smell. However, with this mattress, off-gassing is not an issue.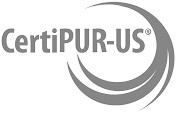 Coupons, Trials, Warranties, and Shipping
Shipping – Wayfair ships large items, including mattresses, via a trusted carrier specializing in handling and delivering large items. Delivery usually takes one to three weeks within the continental United States.
Trial – Wayfair understands that you need time to adjust to your new mattress, which is why the company offers a 100-night free trial. If you don't find the mattress comfortable, you can return it in exchange for a refund.
Warranty – Wayfair offers a 10-year limited pro-rated warranty on the Nora 12" mattress.
Wayfair vs. Leesa
Comparing this Wayfair mattress with another product in the all-foam category can provide you with valuable insight into how this mattress will meet your needs. The Leesa is a high-quality mattress with a firmness level of 7/10. This bed is also suitable for heavier sleepers, but it is even less forgiving to lightweight and side sleepers than the Nora 12".
The Leesa doesn't offer the same degree of pressure relief as the Wayfair, but its high-density foam layers provide optimal support for sleepers who sleep on their back or front. Like the Nora 12", the Leesa is not ideal for side sleepers due to its high indentation load deflection rating, which comes down to firmness.
Both Leesa and Nora are suitable for couples as a result of their motion isolation properties. However, the Leesa is only a viable option for couples if both require support instead of pressure relief.
The Leesa has three foam layers instead of four, and it has a height of 10 inches, which is two inches shorter than the Wayfair. However, because the foam layers are thinner, some sleepers may find the Leesa to be the more comfortable option.
Overall Summary


If you prefer sleeping on your side and frequently wake up with muscle pains, you may want to consider a mattress with a plush firmness rating. The top foam layers' higher firmness could aggravate pressure points around the hips, shoulders, and elbows of lightweight side sleepers, however this bed should still suit most.


The firmness and support of the high-density foam layers and top comfort layers are ideal for back sleeping, especially for people who are on the heavier side. The upthrust of the supporting foams keeps your midsection level with the rest of your body, ensuring that your spine is in a neutral position.


Maintaining a healthy posture can be difficult when sleeping on your tummy. However, if you like "doing the skydiver" when sleeping, you need a mattress with a high firmness rating. While the Nora offers decent support for stomach sleeping, if you're heavier, you may want to consider a firmer mattress, such as the Leesa.


Sleepers weighing more than 220 pounds can comfortably sleep on the side, back, or front on this mattress, depending on their tolerance for pressure points. The hardness of the sleeping surface makes it easy to change positions, and you won't wake your partner, thanks to the motion isolation properties of this product.


The available size selection, edge support, and motion isolation of the Nora 12" makes it a viable option for couples, especially if both sleepers require support for back sleeping. The cooling features this product offers also prevent body heat build-up, which helps keep you and your partner comfortable.


Generally, heavier sleepers find this firmness level more comfortable, and they have the support they need for proper body alignment. Heavy sleepers can also adopt several sleeping positions on this surface without experiencing blood flow, breathing, and muscle pain issues.


If you have a slender build and weigh less than 220 pounds, this mattress may not provide you with the sinkage you need to sleep comfortably. However, if you are a stomach or back sleeper, this mattress may offer the perfect firmness. We don't recommend this product for lightweight side sleepers.
This product from Wayfair offers optimal value in terms of quality, durability, and luxury. Features such as cooling, edge support, and motion isolation are also on par with most high-end brands. If you have the right sleeper profile, this Wayfair bed is the right option for you.
Our Verdict
If you are a back or front sleeper weighing 220 pounds or more, this mattress is the ideal option for you. The foam offers sufficient support to ensure proper body alignment, and the top layers are soft enough to provide some pressure relief.
We don't highly recommend this product to lightweight or side sleepers, especially those prone to muscle pain. However this bed should still suit most people of a medium or heavier build.
This mattress is no longer available for purchase. To help you find your next mattress, check out our list of the best mattresses available on the market now.
Katie is a content writer and serial hobby collector who enjoys naps almost as much as her pets do. When she isn't writing, she likes to ride her motorcycle, catch Pokemon with her hubby, and practice yoga with her dog.