Transparency Disclosure – We may receive a referral fee for products purchased through the links on our site...

Read More

.
Disclaimer - Nothing on this website is intended to be a substitute for professional medical advice, diagnosis, or treatment...

Read More Here

.
Side sleeping can help with spinal alignment and back pain, but it can be uncomfortable if you don't have the right pillow and mattress. The Eli & Elm pillow is made specifically for side sleepers, supporting and contouring the sleeper's neck and head. Unlike a flat pillow, the Eli & Elm holds your head up, reducing the chance of chronic neck pain. Plus, the pillow's unique U-shape promotes optimal spinal alignment throughout the back.
In this review, we'll talk about this product's construction, benefits, and possible drawbacks, which should help you decide whether the Eli & Elm pillow is right for you.
Eli & Elm Side-Sleeper Pillow
A contoured designed pillow for side and back sleepers.
Sleep Advisor Score
4.30 / 5
You will love Eli & Elm if you:
Sleep on your side – The Eli & Elm pillow is created specifically for side sleepers as the U-shape gives enough room for your shoulder, thus preventing pressure from building up in this area.
Sleep on your back – Back sleepers may also find the Eli & Elm pillow comfortable because it helps with spine alignment and reduces neck pain. Plus, there's an option to purchase additional fill for back sleepers who need a higher loft.
Are prone to allergies – This pillow is hypoallergenic, meaning that it's antimicrobial and resistant to mildew and dust mites.
You might not like Eli & Elm if you:
Want a traditional pillow – Although the U-shape of the Eli & Elm pillow has many benefits, it doesn't fit into a standard pillowcase like traditional pillows.
Sleep on your stomach – Stomach sleepers may find the Eli & Elm pillow too high for their needs. Most stomach sleepers need a flatter pillow to prevent neck pain.
Want a machine-washable pillow – The outer cover of the Eli & Elm pillow is machine-washable, but the pillow itself is not, making it difficult to remove spills and stains that get below the cover.
Construction (Materials & Quality)
The construction of the Eli & Elm pillow starts with a cover made from cotton, spandex, and polyester blend. The cover is removable so you can wash and dry it in the machine for easy maintenance. Next is the polyester blend liner that opens through a zipper extending a third of the way across the pillow, allowing you to add or remove fill to adjust the loft. The filling is made from polyester fibers and natural latex. The Eli & Elm pillow has a relatively high loft, but you can remove some of the fill to adjust if needed.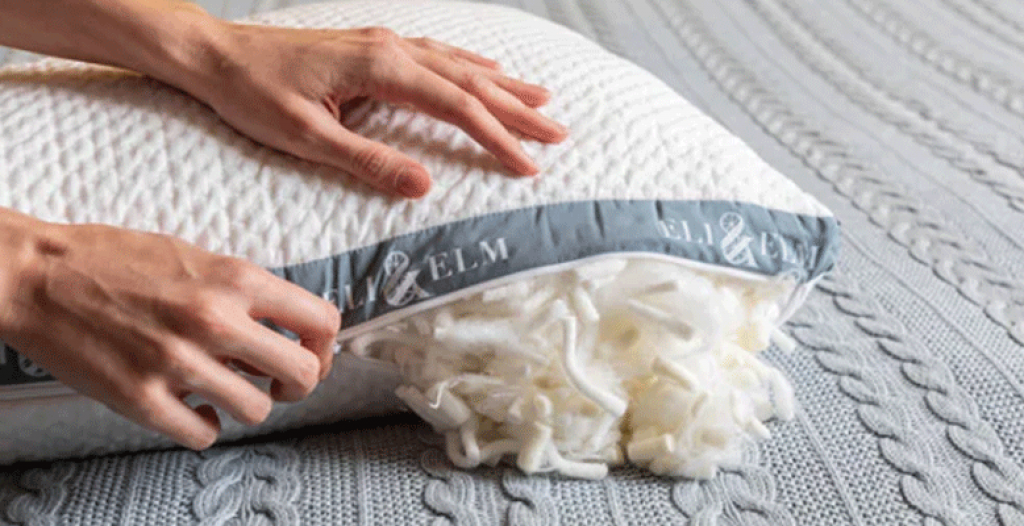 Firmness (Comfort & Feel)
The Eli & Elm pillow has a medium-firm feel, offering a perfect balance of support, comfort, and pressure relief. The first thing you may notice is that you're lying "on top of" the pillow, meaning that your head won't sink too far down. This should give you sufficient support regardless of whether you sleep on your side or back. In addition, the fill is customizable, making it easy to adjust how the pillow feels for maximum comfort.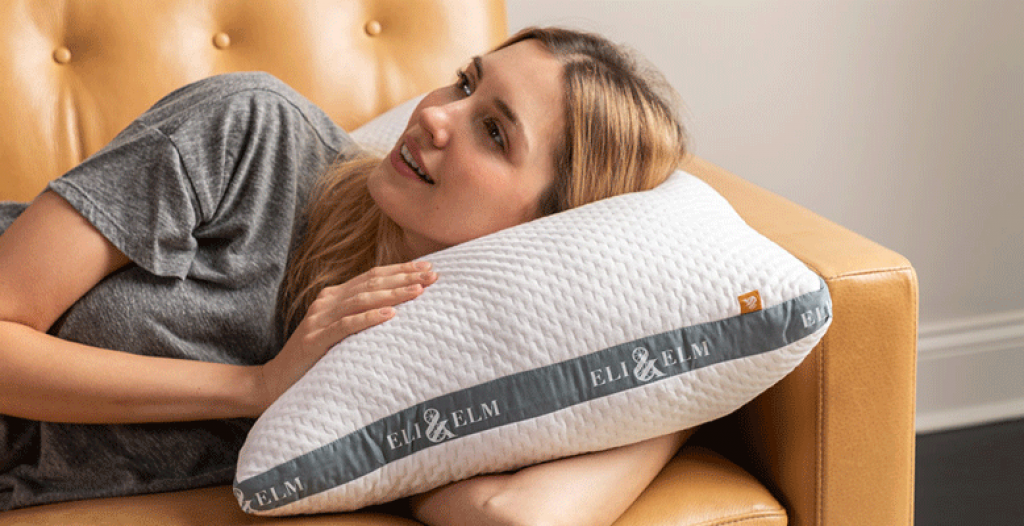 Temperature Regulation
Side sleepers prone to overheating should enjoy this product. The materials in the Eli & Elm pillow have cooling properties, providing hot sleepers with a more comfortable sleeping experience. The cotton cover promotes airflow while the latex filling is breathable, so it's unlikely the pillow would trap any heat. This pillow should feel comfortable and cool to sleep on, even for hot sleepers struggling with hot flashes, sweating, and overheating.
Noise & Smell
The Eli & Elm side sleeper pillow doesn't have any off-gassing, which means you won't have to worry about bothersome odors if you want to sleep on it right away. The pillow is also noise-free because it has a soft filling made from delicate fibers and noodles. The fibers adapt to the shape of your head and neck without making any noise that could wake you or your partner up.
Other Considerations
Size Options – The Eli & Elm pillow comes in one size only, measuring 17 by 29 inches.
Warranty – The company doesn't offer a warranty on this pillow.
Trial – The Eli & Elm pillow comes with a 45-day trial period, allowing consumers to test the pillow before purchasing.
Shipping – The company ships the pillow for free.
Certifications – The Eli & Elm Side Sleeper Pillow features an OEKO-TEX certification, meaning it has been tested for harmful substances.
| Size | Dimensions | Price w/o Discount |
| --- | --- | --- |
| Standard | 17 x 29 inches | $119.99 |
| Standard w/ Pillowcase | 17 x 29 inches | $134.99 |
Final Thoughts
The Eli & Elm pillow is comfortable for side and back sleepers, especially those struggling with chronic neck pain.
If you're a side sleeper with neck pain, it may be time to try the Eli & Elm. Side sleepers should appreciate the U-shape that allows maximum comfort and prevents pressure from building up in the neck.
The pillow is made from high-quality materials that provide a luxurious feel and cooling features for those who sleep hot. Although it doesn't fit in standard pillowcases, the brand offers a U-shape pillowcase to go with it and additional fill for customizing the loft and firmness. If you're curious about what other great pillows are available, we encourage you to visit our full roundup of the best side sleeper pillows.
Eli & Elm Side-Sleeper Pillow
A contoured designed pillow for side and back sleepers.
Sleep Advisor Score
4.30 / 5