Preparing to bring your baby into the world can include an abundance of critical decisions, like how and where you want your baby to sleep. Everyone's got an opinion, and each family will have a unique routine that works for their individual needs.
Deciding whether to let your baby sleep in a room nearby or next to your own bed can feel like a big choice. If you've come to the resolution that you'd like to co-sleep with your child, that leaves the choice of which co-sleeper will be comfortable for you and your baby.
Read on for our best rated baby co-sleepers to welcome your little one into your world.
8 Top-Rated Baby Co-Sleepers Reviewed
Mika Micky – Best Bedside
7 height positions
Easy-open side panel
Built-in wheels with brakes
This nifty co-sleeper has a great set-up that's simple to use bedside, potentially making life easier for your family. The sleeper can attach to your bed using the two fastening straps included in the product, allowing you to reach your child at a moment's notice and keep a close eye on your tiny tot while sleeping.
What's great about this product is there are 7 height adjustment settings to suit a variety of beds. Additionally, there is an easy-open panel on one side, allowing for an accessible and barrier-free set-up. The two-sided mesh makes it breathable for your munchkin and more transparent for parents.
The bottom material is stable and supported while still comfortable for baby, with a mattress pad on top of a sleeping board. This product is suitable for infants from the time they are born until about 5 months, or 33 pounds, whichever comes first, or until your little one can push up in an upright position.
Fisher-Price – Best Soothing Co-Sleeper
Calming sway motion
Dual mode lighting
30 minutes of calming vibrations, music and sounds
Optional lock out
Your little snoozer can doze off under the stars in the hanging mobile while listening to relaxing sounds to lull them to sleep, letting everyone in the family get a better night's rest. Furthermore, while the mobile can be excellent in soothing and distracting a fussy baby, it also stimulates them while they're young, fostering mental development.
A smart feature about this Fisher-Price model is that the stars in the mobile actually light up, potentially entertaining your tot and giving you some moments of peace. The soft textures of the mattress, relaxing vibrations, and swaying motions of this product help to comfort your tyke as you put them down for naps or bedtime.
The mesh sides allow parents to keep a close eye on their munchkins without too much parental interference. The Fisher-Price model is an excellent choice for many parents with many customizable features and perks that we highly recommend.
Graco – 4 in 1
4 different ways to use
Push-button fold for use on the go
Easy maneuverability with 2 built-in wheels
This crib is a fabulous choice due to its multiple functions and features. The Graco 4 in 1 is specially designed to support your child from birth through their toddler stage, since this product can be modified as they grow older, making it a great choice particularly in terms of cost.
The Graco is versatile, convertible and even comes with wheels so you can transport it anywhere in your home with ease. Foldable and weighing less than 20 pounds, it's simple to pack down and tote with you, making it a great pick if you plan to go away on vacation or to the grandparent's house for a night.
This co-sleeper can transform into three different designs, making it excellent for newborns, infants, and young toddlers as they grow. The mesh panels allow for maximum ventilation, and the soft toys hanging from the canopy soothe and distract baby as they drift off to dreamland.
KoolerThings Baby Bassinet – Best Overall Value
4-in-1 convertible design
Cotton bassinet
Aluminum frame
Adjustable height
The KoolerThings Baby Bassinet is our selection for 'Best Overall Value'. The construction includes a cotton bassinet and sturdy aluminum frame for durability. Cotton, a highly breathable material, should help keep baby cool and comfy while they sleep.
This product comes in a classic and understated grey color. Directly below the bassinet is a convenient storage compartment for baby products such as wipes, bottles, and whatever else you may need nearby. The manufacturer has also included a storage bag to easily use this bassinet for travel.
Why we love it
This co-sleeper features a 4-in-1 convertible design to give you plenty of options in one product. The KoolerThings bassinet can be used as a beside sleeper, stand alone crib, portable play area, and transportable crib.
There are also five height options so you can find the perfect match to your sofa or bed.
Baby Bassinet by RONBEI – Best with Music Box
Safe and comfortable material
Adjustable height and feet
Included music box and detachable toy
Air mesh on both sides
Music can be an incredibly soothing source of comfort for some individuals, and if your tot is particularly attuned to sound, they might appreciate a sleeper with a music box. This RONBEI bassinet is built with excellent craftsmanship and has a beautiful appearance while offering relaxing and soothing sounds your babe can drift off to at bedtime.
The intelligent design has an adjustable height to be raised to the exact level as Mom and Dad's bed. Additionally, the retractability feature lets you position the bassinet slightly over the top of your bed as well, keeping your munchkin close for ultimate accessibility and vision.
The product's breathable fabric on both sides allows for maximum airflow and circulation, providing your child with a healthy atmosphere to snooze in, possibly giving parents some shut-eye. High-quality microfiber is soft to the touch and keeps your tot's delicate skin safe while they drift off to delightful music.
Dream on Me Skylar Bassinet and Bedside Sleeper – Best Dual Use
Lightweight and mobile
Dual use
Adjustable height and feet
JPMA certified
The Dream on Me Skylar Bassinet and Bedside crib offers the ultimate choice in transformation and functionality. This lightweight product has multiple heights to choose from so that you can keep your munchkin at eye level while you lay in bed, allowing for ultimate vision and accessibility.
With the zippers on the side rolled down, this sleeper converts into a smart bedside bassinet. This alteration makes it easy for moms to breastfeed in the middle of the night or comfort a fussy child without getting out of bed. When zipped up, the mesh sides keep parental vision in mind to monitor your little one while giving them a comfortable, semi-private environment.
Additionally, it has wheels on the bottom, letting you roll your munchkin's set-up anywhere you go. Nobody enjoys putting furniture together, which is why this bassinet is made to offer a tool-free assembly, as the strap system lets you secure the bassinet to your bed frame without hassle.
Arm's Reach Co-Sleeper – Best Breathable
Breathable mesh sides
Included: mattress, fitted sheet, nylon strap & plate
Deep storage baskets included
Naturally, we want to ensure our tots are kept in a safe atmosphere where they can get their essential needs, and maintaining a breathable environment is critical to their wellbeing. This Arm's Reach Co-Sleeper keeps this in mind to offer quality products to cater to our little one's every need.
The mesh sides provide excellent breathability and airflow, and let your keep an eye on your tot at all times during the night. It offers deep pockets for storage, letting you keep necessities nearby for those unexpected accidents and midnight feedings.
The bassinet also allows parents to keep their babes closeby for nighttime feedings or midnight soothings. Ideal for breastfeeding parents or mothers who've had C-sections, this nifty product is an excellent choice for any new parent, letting both infants and parents sleep comfortably with ease and free from stress.
Snuggle Nest Harmony Portable Infant Sleeper by Baby Delight – Best Waterproof
Breathable mesh for air circulation
Waterproof foam mattress
Nightlight and sound unit included
Sheet and sleeper cover included
The Snuggle Nest Harmony Portable Infant Sleeper from Baby Delight is aimed at making life for new parents a little easier with their baby co-sleeper. The bed has a waterproof foam mattress – a helpful addition for any little messes that may occur. This product's design features firm, 8-inch mesh walls, which should provide good ventilation for your baby during the night.
The bed is long enough that it should also accommodate taller infants, while the width of the product should fit comfortably in either queen or king-size adult beds.
Why we love it
In addition to the bed's waterproof mattress, it also comes with a sheet and sleeper cover that can both be removed for machine washing.
This product features a nightlight and relaxing sounds to help soothe your baby during the night.
The bed can be folded in half, making it also ideal for family travel.
Who Should Consider Buying a Baby Co-Sleeper?
The American Academy of Pediatrics (AAP) states that the safest place1 for babies to sleep until they reach at least six months old and ideally one year old, is in a certified co-sleeper, bassinet, or mini-crib in the same room as their parent or caregiver. A safe sleep environment can help reduce the risk of Sudden Unexpected Infant Death Syndrome (SUIDS), which also encompasses Sudden Infant Death Syndrome (SIDS).
SIDS is a leading contributor to the approximate 3,500 annual infant deaths2 in the United States. Therefore, anyone with an infant should consider buying some form of a co-sleeper.
How to Choose a Baby Co-Sleeper
For many parents and guardians of infants, sleep is already going to be challenging. In addition to safety features, there are other factors, such as size, design, and versatility, to consider when picking the right co-sleeper.
Comfort and Safety
Although firm mattresses may not be appealing to a lot of adults, infants should be placed on their backs on a firm, flat mattress with only a secure fitted sheet1,2. Soft, fluffy surfaces may conform too much to the baby's head and lead to carbon dioxide poisoning risks.
It may be tempting to add soft, comforting items such as blankets, stuffed animals, or pillows, but these items may increase the risk of suffocation, strangulation, and entrapment2. However, pacifiers are recommended for sleeping infants, as these not only soothe them but can also help prevent SUIDS2.
Size
Babies don't take up a lot of space, but the number of items needed to properly and safely care for them may seem like they could fill an aircraft carrier. This makes the size of the co-sleeper that you choose important on several fronts.
You will want to find a co-sleeper that accommodates the size of your room. In-bed loungers are more compact, but they typically don't offer the growth options that you may find in bassinets. Therefore, the amount of time that you plan to have your baby sleep in your room should be taken into consideration as well as the dimensions of the product.
Design and Versatility
With the variety of cribs, bassinets, and co-sleepers available, there are many design options that provide versatility to co-sleepers. From travel carriers that are easy to pack and transport to bedside sleepers with adjustable heights, wheels, and brakes, and even bassinets with built-in sound machines, lights, and calming swaying motions, there are a plethora of design choices that can help parents and their newborns rest peacefully.
Cleanliness
Little babies can make big messes. Having a clean and tidy sleeping area can have a calming effect on the baby and the parent. Co-sleepers that are easy to access and have a removable mattress cover (or multiple covers) for convenient machine washing can save you a lot of time and middle-of-the-night headaches.
Types of Co-Sleepers for Babies
Bedside Co-Sleeper – A bedside co-sleeper is a type of bassinet with a side that drops down so that it can be positioned by an adult bed. These often have belts or straps that will secure them to the bed and ensure that there are no gaps. Although the AAP states that not enough research has been done on these types of sleepers to establish guidelines or recommendations, they do think that as long as the co-sleeper has a Children's Product Certificate (CPC) from the Consumer Product Safety Commission (CPSC)3, the product should be safe. Also, this shouldn't be interpreted that these products are unsafe but rather that there is not enough evidence one way or another.
Bassinets – These bedside sleepers have been around for years and have been studied extensively. Bassinets are tightly regulated and they are considered a safe way4 to sleep in the same room as your baby. Unlike, co-sleepers, which have a drop-down side that could cause a gap that the baby could get trapped in, bassinets for four enclosed sides. The downside of that is that it may make it more difficult to get to the baby during the night.
Mini-Cribs – These compact cradles have a smaller footprint than the more traditional models and may be the ideal furnishing for sharing a room for sleep. The CPSC states that a full-size crib5 be 28 inches wide by 52 inches long. If it is smaller than that, it is considered a mini-crib. These beds combine the sturdiness and reliability of a full-size crib with a size that is easy to maneuver and manage.
Best Baby Co-Sleeper FAQs
When will my baby be ready to move from co-sleeping to their own room?
The American Academy of Pediatrics (AAP) recommends that babies sleep in the same room as parents ideally until they are one year old, or at least until they are six months.
Should I choose a coil or foam mattress?
Either coil or foam can be excellent choices for crib mattresses, however, safety will always be the first priority. A coil mattress for your baby can be a bit more expensive, as the foam options will usually be cheaper. As long as the mattress is firm, though, it should suit just fine.
Can co-sleeping reduce the risk of SIDS?
While room-sharing has been known to cut the risk of SIDS, bed-sharing can actually increase that risk, which is why the AAP states that you should never do it2. This is because babies can easily be smothered by blankets or pillows, or even their parents.
An excellent alternative is a bedside bassinet, co-sleeper, or mini-crib to create a barrier between your baby and you. This can offer safety while still allowing parents the convenience of proximity and accessibility, letting parents easily breastfeed and conveniently check on their sleeping infants.
Our Final Thoughts
During those sleepless nights with a newborn, the convenience of putting them in bed with you can be tempting. However, the AAP states that you should never sleep on the same surface with your baby, be it a bed, couch, or recliner, as these arrangements lead to an increased risk for SIDS. Instead, you should sleep in the same room as your child for no less than six months, preferably, though, for the first full year of their lives.
To make this arrangement as safe and comfortable as possible, you should use a co-sleeper, bassinet, mini-crib, or even a full-size crib if space allows. There are many co-sleeping products on the market. Although some may be considered slightly safer than others, the AAP states that as long as they are CPSC certified, they should be a safe product. This means that you should have plenty of options when it comes to finding the right co-sleeper for your baby and you.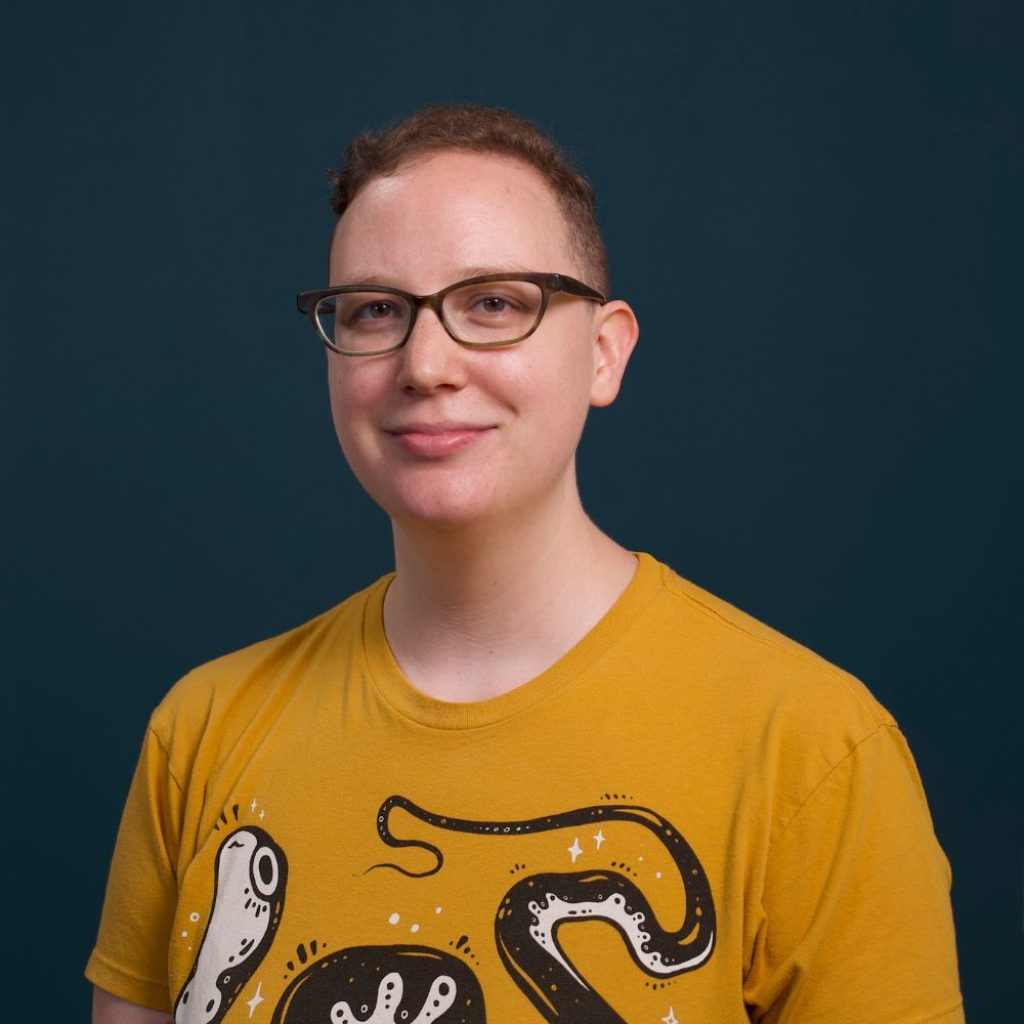 Melanie Kassel
Performance Editor
About Author
As Sleep Advisor's Performance Editor, Melanie writes and edits content throughout the site to ensure it's accurate, engaging, and up-to-date.
References
"Safe Sleep". American Academy of Pediatrics. Webpage accessed June 21, 2023. https://www.aap.org/en/patient-care/safe-sleep/.
Moon MD, Rachel Y., Carlin MD, Rebecca F., Hand MD, Ivan. "Sleep-Related Infant Deaths: Updated 2022 Recommendations for Reducing Infant Deaths in the Sleep Environment". Pediatrics. https://publications.aap.org/pediatrics/article/150/1/e2022057990/188304/Sleep-Related-Infant-Deaths-Updated-2022?autologincheck=redirected&_ga=2.70214544.1646871713.1687360295-58426801.1687360295. 2022.
"Bedside Sleepers Business Guidance & Small Entity Compliance Guide". United States Consumer Product Safety Commission. Webpage accessed June 21, 2023. https://www.cpsc.gov/Business–Manufacturing/Business-Education/Business-Guidance/Bedside-Sleepers.
Moon, MD, Rachel Y. "How to Keep Your Sleeping Baby Safe: AAP Policy Explained". Webpage accessed June 21, 2023. https://www.healthychildren.org/English/ages-stages/baby/sleep/Pages/A-Parents-Guide-to-Safe-Sleep.aspx.
"Full-Size Baby Cribs Business Guidance & Small Entity Compliance Guide". United States Consumer Product Safety Commission. Webpage accessed June 21, 2023. https://www.cpsc.gov/Business–Manufacturing/Business-Education/Business-Guidance/Full-Size-Baby-Cribs.