Things have come a long way since the clunky oak and cheap metal frames of our childhood.
Now there are all types of configurations and designs that make me want to go out and redo my guest bedroom! The practical side of me is impressed with all the innovative storage solutions manufacturers have built, and the style-conscious part of me is so impressed with how modern, streamlined and downright gorgeous the latest models are.
If it's been awhile since you've researched this type of utilitarian furniture, stay tuned, and I'll share all the different bunk bed styles and designs you'll be able to choose from in 2021.
Material
Wood
The most common material is wood. It allows for the most flexibility and extra features. Since wooden bunkbeds account for about 75% of the market, you'll find there are more options to choose from, although they're pricier and heavier than metal.
There are several wood options, and they'll vary widely in appearance and price. These include: maple, oak, cherry, walnut, rubberwood (made from the trees that are also the source of latex), pine, and engineered or composite wood.
Metal
Metal bunk beds are more lightweight than their wooden counterparts, making them less expensive and easier to move. Depending on your preference, metal can also give a more modern and streamlined appearance.
Something to consider when choosing metal is its tendency to rust. Make sure you find a model that is coated with a powder-coat finish. It's more durable than regular paint, and in addition to preventing rust, it also resists scratches, chipping and UV damage.
Design
Standard
The most basic, or standard design, is two single, twin mattresses with one directly on top of the other. There will be some type of a ladder to allow access to the top level. This type of loft set up is ideal for siblings who share a small room, and for parents who want to save money as it's less expensive to buy a standard than it is to purchase two twin mattresses and frames separately.
Sometimes a standard design will come with a full, or double, mattress on the bottom. This is called "twin over full," which I'll describe in more detail coming up soon.
Futon
Futon bunks are an ideal solution for people who want to create a lounge area in the bedroom without taking up too much space. The structure has a foldable futon on the bottom (usually a double), which can multi-task as a sofa or a bed. The top area is a loft, also with a futon mattress that is flat.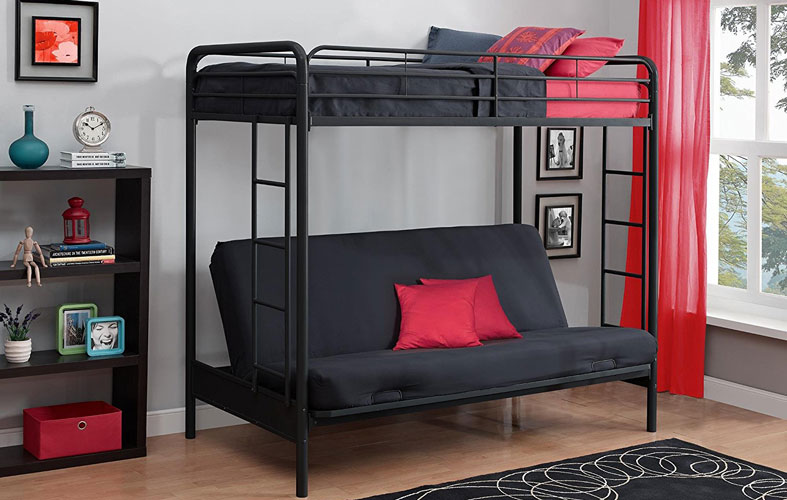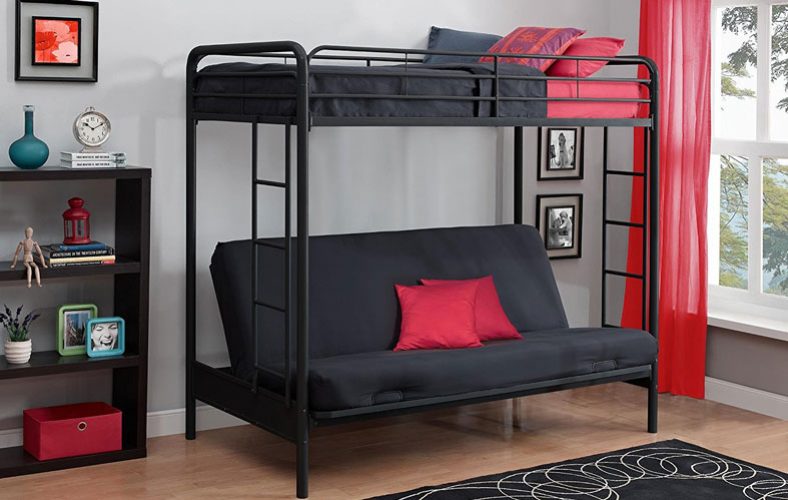 Trundle
If you're trying to sleep three in cramped quarters, a trundle setup could be just what you're looking for. It's like a standard bunk by day, but at night you can pull out a hidden draw and have a third mattress available.
If you want extra storage but don't need a third mattress, you can get a trundle bed with an empty pull-out drawer. If you have seasonal items that you don't access all the time, or you just need more room for clothes and miscellaneous items, this drawer will be a lifesaver.
L-Shaped
An L-Shaped bunk has a modular design that takes up additional square footage but is ideal if you're looking for an all-in-one furniture solution. There are different ways to structure this type of design, but one common configuration is two twin mattresses that intersect at a right angle on top, with another mattress and furniture pieces on the bottom.
Loft
A loft style bed is a modern take on organizational efficiency. It consists of a loft sleeping area on top with empty space on the bottom. Turn it into a home office, a lounge area or your pet's bedroom!
Three-Tier
If you need to sleep three in the space that's designed for only one person, a three-tier bunk is a perfect solution. It looks like a standard bunk, but there's a third mattress and frame on the floor. This design is probably the best bargain because you get three beds for one low price.
Desk
Reminiscent of dorm living, desk bunk beds provide an office right under your sleeping quarters. Again, the loft is on top and, depending on how fancy of a model you choose, you can have a built-in office right under your sleeping area. At its most basic level, you'll have a built-in desk. If you shop around, you can find models that also have shelving units, drawers, and filing cabinets.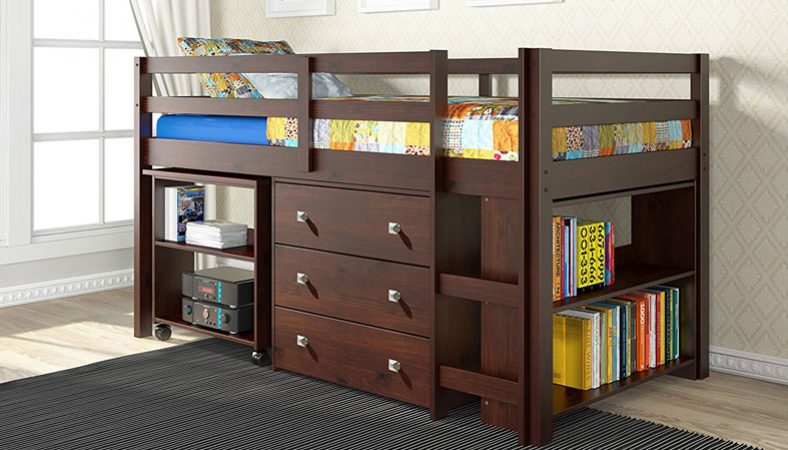 Junior
If you're shopping for beds for your little ones, you may want to consider a junior bunk bed. These are like the standards, but they're lower to the ground. Some models have extra kid-friendly features like slides and tents.
Novelty
A novelty bed centers around a theme, whether it's a sport, doll, playhouse or treehouse. A lot of times they'll come with extra cubbies, which are handy for storage. Kids love the whimsical aspect of these structures, so this choice is a win-win.
Twin Over Full
Just like it sounds, twin over full means that there is a full-sized mattress on the bottom and twin, or single, on the top. Depending on the design, the two mattresses may be parallel with the double jutting out further into the room, or the double could be underneath at a right angle, meaning the sleepers head would be against the wall rather than beside it.
Study
This design is similar to the desk type of bed mentioned above. However, it often contains more features like built-in shelving, drawers and even steps with pull-out drawers for additional storage.
Triple
Triple bunk beds mean you can sleep three, and there can be a variety of configurations. Some include the L-shaped option discussed earlier, which has two intersecting mattresses on top and a third on the bottom. Or, they can be stacked together in a three-tier structure.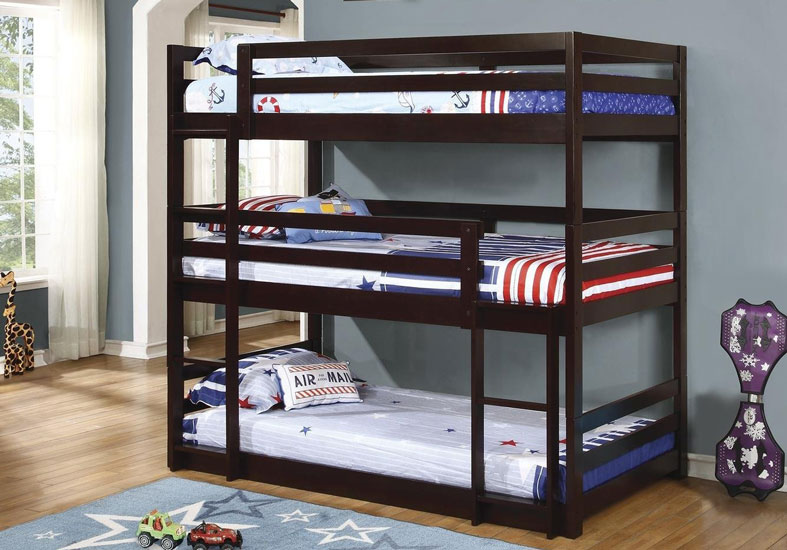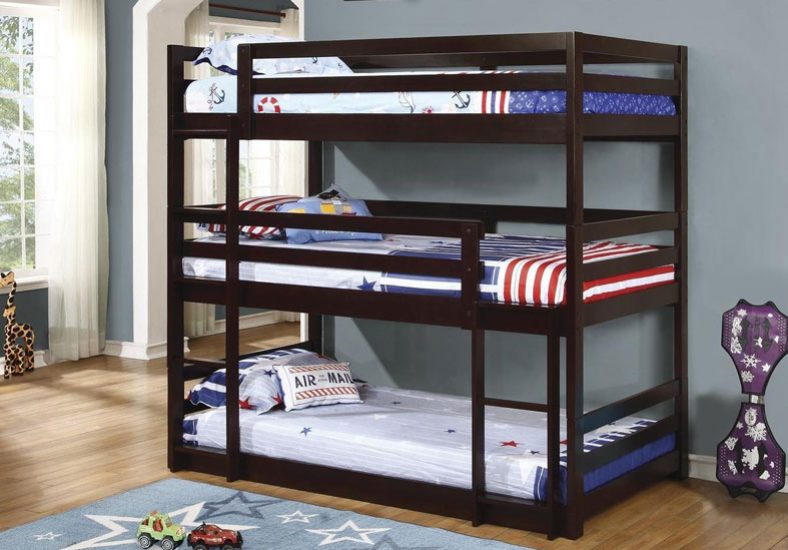 Style
Traditional
As the name implies, traditional is the standard and most commonplace design. It has the basic structure of one twin mattress directly on top of the other with a ladder to allow for access to the loft.
Rustic
If you're looking for a natural look and feel, rustic is for you. This style often has unpainted or natural wood and a classic structure. You may even find one made out of logs!
Country
I prefer the term shabby chic. If you're looking for something with country charm for a cottagey feel, seek out bunk beds with subtle frills and fine details. Bonus points if you find painted white wood.
Modern
Seek our modern styles for teenagers or adult guest bedrooms. They'll tend to have a simpler look with clean lines. Often modern style bunkbeds are white, gray or black. Another take on modern is the midcentury modern look of the 1950s and 1960s. That style has a bulkier aesthetic while still maintaining a functional design.
Contemporary
Contemporary style bunkbeds embrace the newest styles and trends. This style tends to feature never before seen ideas and innovations.
Industrial
Industrial design is another take on modern, but edgier. It'll often feature brushed steel or black metal in a clean and functional shape. Industrial beds are for those who want to be taken seriously because they're no-nonsense and sturdy.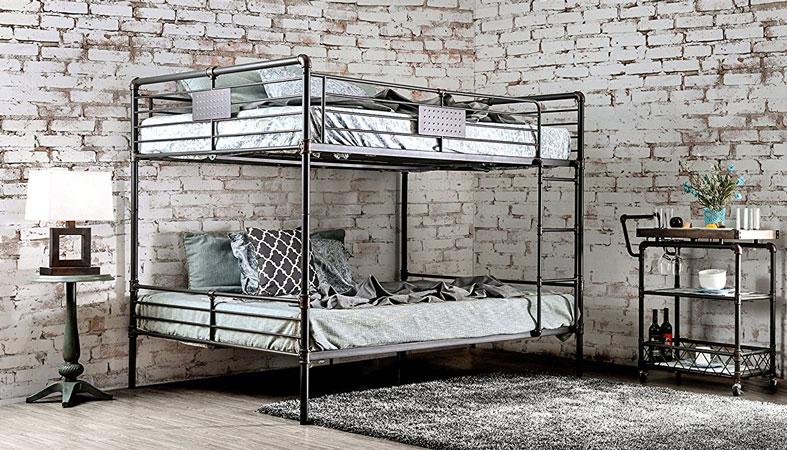 How to Make Your Top Loft Cool
As you know, heat rises, so the sleeper on the top bunk may complain about being too hot during the night. There are a lot of solutions to beat the heat, including a small (quiet fan), a gel cooling mattress topper, or DIY hacks like putting your top sheet in the freezer before bed.
Frequently Asked Questions
What is the best design for small rooms?
When space is at a premium, look for designs that maximize efficiency. Here are my top three choices and why:
Loft: you can use the space beneath for whatever you want.
L-shaped: most of your furniture can be along the two walls, opening up the rest of the room.
Desk or Study: you get a multi-functional piece of furniture with two distinct purposes, all in one concentrated area.
Which one is the most unique bunk bed setup?
Novelty beds tend to be the most unique because they are so creative. In my research, I've found ones that look like castles complete with turrets, some that look like a John Deere tractor, and even styles that look like the Batmobile.
Do you recommend bunk beds for adults?
Absolutely, and there are some great styles! However, I think most adults would prefer sleeping on something larger than a twin mattress, so I recommend getting a style like a twin over full or a loft that has a double mattress on the top.
Conclusion
---
In my opinion, bunk beds are underrated. In fact, they're a genius invention. I expect innovation to continue and even more interesting structures to be released over the coming years. Trends like tiny homes, urban migration, and co-living habitats mean that these beds will continue to rise in popularity. I can't wait to see what the industry comes up with next!
More Reading
Our team covers as many areas of expertise as we do time zones, but none of us started here as a so-called expert on sleep. What we do share is a willingness to ask questions (lots of them), seek experts, and dig deep into conventional wisdom to see if maybe there might be a better path towards healthy living. We apply what we learn not only to our company culture, but also how we deliver information to our over 12.7M readers.
Sleep research is changing all the time, and we are 100% dedicated to keeping up with breakthroughs and innovations. You live better if you sleep better. Whatever has brought you here, we wish you luck on your journey towards better rest.