Transparency Disclosure – We may receive a referral fee (at no additional cost to the buyer) for products purchased through the links on our site or other applicable pages. To learn more, please read our full disclosure page here. We also encourage you to read about how we may research and/or test Products here.
Cotton is a natural, gentle, breathable, and easy-to-maintain material. These advantages are why it's a fantastic material for blankets. Blankets made with cotton can be used at night, for naps, or when you're watching television.
If you're interested in buying a quality cotton blanket, we've rounded up our favorite products from top bedding brands. The blankets on this list can apply to sleepers with different needs and preferences, so there should be something for everyone. Keep reading for the best cotton blankets to buy right now so you can cozy up as soon as possible.
The 8 Best Cotton Blankets
Best Hypoallergenic Cotton Blanket
Saatva Diamond Knit Blanket
100% Cotton Knit
OEKO-TEX® Standard 100 Certified
Hypoallergenic and Moisture-Wicking
45-Day Return Policy
1-year Limited Warranty
If you want to curl up with a blanket but worry about allergens giving you a hard time, then you'll want to consider the Saatva Diamond Knit Blanket. This blanket features a hypoallergenic construction that's perfect for those with allergies. Plus, the moisture-wicking design means it's great for warmer weather as well.
This Saatva blanket is made from 100 percent cotton knit and is OEKO-TEX® Standard 100 certified, ensuring you're getting a safe and trustworthy product.
Why did it make the list?
Saatva offers customers a 45-day window to test out the blanket or return it free of charge for a full refund.
Upon purchasing the blanket, you'll also receive a 1-year limited warranty on it.
This blanket comes in three chic color options, including White, Sand, and Ash. With multiple options available, you should be able to find something that complements your bedroom or another home space.
Best Calming Weighted Cotton Blanket
Brooklinen Weighted Throw Blanket
Four Color Options
Glass Beads Inside
Textured Cotton
Weighs 12 Pounds
Weighted blankets can be a helpful way to help ease anxiety, and if you use them at night, this could lead to more peaceful sleep. This weighted blanket from Brooklinen weighs 12 pounds and features an interior that contains small glass beads that give it its weight.
The exterior of the blanket is made up of textured cotton for exceptional comfort, and since cotton is breathable, this should keep it from feeling too hot.
Why should you consider it?
You can pick from four color options for the Brooklinen blanket. These color choices include Navy, Rose, Alpine, and Terracota.
For your convenience, you can wash and dry the blanket in a machine.
You have a full year to return or exchange this product, and it comes with a 1-year warranty. Plus, the company will pay for shipping for returns within the U.S.
Best Organic Cotton Blanket
Nest Waffle Throw Blanket
Six Color Options
Waffle Knit Design
100% Organic Cotton
OEKO-TEX® Standard 100 Certified
If you want a more eco-friendly blanket option, consider this waffle throw blanket from Nest. This blanket is made from 100 percent organic cotton and boasts an OEKO-TEX® Standard 100 certification, ensuring you're investing in a top-notch product.
With six colors to choose from, you're sure to find something that fits your taste and the aesthetic of your home. The color options available to shoppers include terracotta, aloe, coal, wheat, clay, and silver.
Why we picked it
With a 100-percent organic cotton design and an OEKO-TEX® Standard 100 certification, Nest offers consumers a safe and eco-friendly choice in this waffle throw blanket.
Multiple color options means this throw should complement all types of home and bedding designs.
The blanket can be washed in a machine and tumble-dried on low heat.
You get up to 30 nights to return this item if it's not the right fit.
Best Cotton Quilted Blanket
Parachute Home Organic Cloud Cotton Quilt
GOTS and Oeko-Tex Standard 100 certified
100% Organic Cotton
Available in Three Colors
Two Size Options
Parachute Home's Organic Cloud Cotton Quilt makes the perfect home or bedroom accessory. This blanket is constructed with 100 percent organic cotton and boasts two impressive certifications, including GOTS and Oeko-Text Standard 100.
You'll get plenty of customization with this quilt from Parachute Home. Along with three color selections, this product comes in two size choices. The smaller option is ideal for Full or Queen-size beds, while the larger ones is best for King or Caliofrnia King-size beds.
Why do we love it?
The three color options for this product include midnight, black, and white. These trendy colors should work well with many home decor designs.
You can return this quilt for free within 60 days if you decide it's not for you.
Maintenance for your Parachute Home blanket should be fairly easy considering you can wash this product in the machine.
Best Lightweight Cotton Blanket
Sferra Corino Blanket
100% Cotton
Machine Washable
Textural Weave
Free Delivery Within the Continental U.S.
Not all blankets need to feel heavy or bulky. If you prefer something more lightweight, we think you'll think the Sferra Corino Blanket. This blanket features a 100-percent cotton construction and a textural weave that should provide you wish a nice, lightweight coziness while relaxing at home or in bed.
Another benefit to the Sferra Corino Blanket is that it is machine washable, which means maintenance for it should be relatively easy. You also don't have to add on extra shipping charges with your purchase, as the company provides free delivery within the continental United States. Shipping to Hawaii or Alaska is available but at an additional cost.
What's worth mentioning?
The Sfera Corino Blanket only comes in white, and while this may be considered a drawback for some, it's a universally flattering color for many bedroom and home designs.
Best Cotton Blanket for Gifting
Peacock Alley Belle Fringe Throw
100% Cotton
Machine Washable
Soft and Lightweight
Waffle Weave
Looking for a great gift idea for a family member or friend? The Peacock Alley Belle Fringe Throw features a soft and lightweight design along with a budget-friendly price point that makes it an excellent option for gifting.
The throw is built with 100 percent cotton and features a cozy waffle weave that gifts the product texture and a quality appearance. Furthermore, the company offers free delivery within the continental United States, which means you can send it to your recipient free of charge. However, shipments to Alaska and Hawaii come with an additional fee.
Why did it make the list?
The Peacock Alley Belle Fringe Throw is machine washable, so it's easy to keep in mint condition.
This product comes in white, a neutral option that's ideal for gifting.
Best Weighted Cotton Blanket for Napping
Bearaby Cotton Napper
Available in Five Colors
Four Weight Options
Organic Cotton
Machine Washable
Naps can be a great way to recharge during the day, but if you're struggling to relax in order to fall asleep, a weighted blanket could do the trick. These types of blankets are known to promote relaxation. The Bearaby Cotton Napper comes in four weight options, including 10, 15, 20, and 25 pounds, providing you while a cozy environment as you try to tune out the world and take a midday nap.
The blanket's organic cotton construction offers a healthier and environmentally-friendly alternative. Keeping your blanket clean shouldn't be a problem, as this product can be washed in a machine and tumble dried on low.
What makes it special?
Shoppers can choose from five different color options, which include a dark grey, light grey, midnight blue, rose, and white.
Multiple weight options provide exceptional customization for enhanced comfort and rest.
Best American-Made Cotton Blanket
American Blossom Linens Cotton Herringbone Weave Blanket
Cotton and Organic Cotton Blend
Fully Made in the USA
Multiple Color and Size Options
Free Shipping for U.S. Orders
For many shoppers, purchasing a locally-made product is a high priority. The American Blossom Linens Cotton Herrringbone Weave Blanket features a rich background in its construction, which includes being fully sourced and manufactured in the United States.
According to the brand's website, the blanket is made by a family-owned mill in Maine that's been in operation since the 1800s. This means that not only are you getting an American-made product but also one that's ethically and sustainability produced.
Why should you buy it?
This blanket from Amercian Blossom Linens lives up to the name, as it is completely sourced and made in the USA.
The company offers free shipping for U.S. orders, which means no extra charges on your end.
Customers can choose from four different color and size options.
The blanket is made with a blend of USA cotton and organic cotton.
Why You Should Buy a Cotton Blanket
You should buy a cotton blanket if you're looking for a great home blanket with many advantages. Cotton is a natural material that's comfortable and gentle on the skin. One of the benefits of cotton bedding is that the material is versatile and easy to maintain. A cotton blanket can be used for sleeping or as a throw on your couch or sofa. Most cotton blankets are breathable and suitable for hot and cold sleepers.
Are Cotton Blankets Soft?
Yes, cotton blankets are soft. Cotton is a fluffy fiber made of cellulose. Cotton is used in many industries. For blankets, companies use fluffy and soft fibers to make the blankets as soft as possible. You can find thick and thin cotton blankets, depending on if you're a hot or cold sleeper. Thick cotton blankets usually have a filling that makes them softer.
How to Choose a Good Cotton Blanket
Choosing a good cotton blanket is easy once you consider the most important factors. If you wonder how to choose the best blanket, you should first think about the size and thickness that would work best for you. Next, you should choose a color and pattern you like. You will need to consider the maintenance and whether you can wash and dry the blanket in a machine. You should think about the quality of the material, if it snags, and if it's possible to iron if it wrinkles.
What Cotton Blanket Type Should You Choose?
The types of cotton blankets you can choose from are listed below.
Lightweight: Lightweight blankets are best for hot weather because they're usually thin. These blankets are good for napping and relaxing on your sofa or couch.
Weighted: Weighted blankets can help with restless leg syndrome and sleep apnea. These cotton blankets come with a filling and could help reduce anxiety and stress related to sleep.
Throw blanket: A throw blanket can be made from different materials, but cotton is one of the most popular options. This type of blanket is thin and has a stylish weave design, making it a decorative option.
Quilted: A quilted cotton blanket has a filling. The cover is made from cotton, while the filling can be wool, polyester, or cotton. A quilted cotton blanket is good for cold sleepers.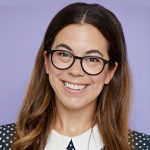 Jill Zwarensteyn is the editor for Sleep Advisor and a certified sleep science coach. She is enthusiastic about providing helpful and engaging information on all things sleep and wellness.
Based in Los Angeles, she is an experienced writer and journalist who enjoys spending her free time at the beach, hiking, reading, or exploring new places around town.
She's also an avid traveler who has a personal goal of being able to successfully sleep on an airplane someday.